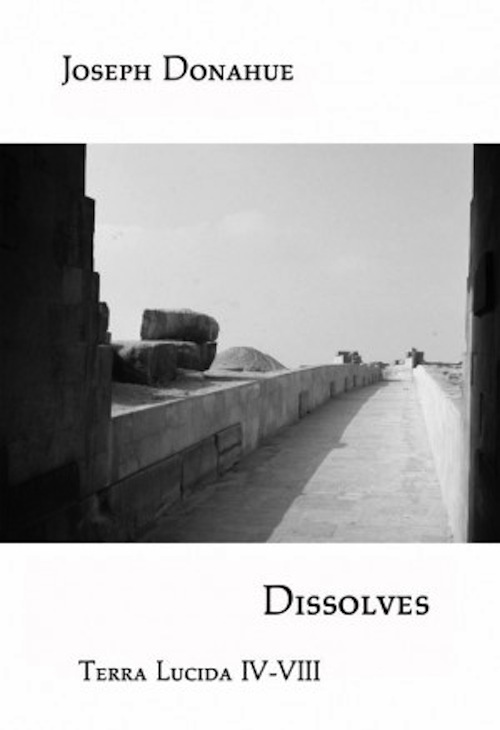 At Hyperallergic, guest writer Jon Curley reviews Joseph Donahue's newest installment of his project Terra Lucida ("a chain of poetic assemblage that both embodies and breaks free of given notions of the long poem"), Dissolves: Terra Lucida IV-VIII (The Paper Cave). Curley relates the work to Ronald Johnson, Dan Flavin, and Beckett -- quite a trio! More:
Donahue splices together his materials, treating them as delicate, porous membranes, connecting them and creating a synergistic relationship of therefore non-discrete objects, interposed rather than juxtaposed. He reviews and reinvents epistemological relations, reckonings, and erasures through which poetic consciousness renews itself, replenishing a voracious need to fine-tune its assessments of the material world in its facts and fictions and the imaginative, spiritual world in all its force and seeming nature.

A letter, large,
semi-iridescent,

Greek, maybe Hebrew,
letters are gates, to be entered,

though the art turns eerie
the longer I look,

a letter, maybe not,
maybe just the place

where all the
space inside of the

world's paintings
goes, all the shades

and planes
of light.

*

You bring your statement
and you vanish with it.

Dan Flavin, the man
of light said,

adding,
Perfect…

Tradition brings stability, perception yield uncertainty; the classical conjoins with the modern and the merging brings clarity. The negotiations of language — in their materiality, discursive natures, restless poetic apprehensions — seeks fulfillment in the "light" of insight. Yet the embodied meanings are not decisive.

Flavin's fluorescent installations appear as artifacts of achieved presence but, as the artist's italicized quotation suggests, clarity or opacity of representation cannot necessarily be determined. Rather, the point is to struggle with one's materials and experience, allow them to ignite, flicker, and go dark. "Perfect" Donahue adds, extending Flavin's quote, and thus the poet joins in valorizing this sensibility as a viable, perhaps the only valid, artistic and personal statement.

The result of this critically sensitive, relentlessly searching intelligence is a fraught, almost visionary kind of poetry which refuses the closure of revelation, a stunning song to insufficiency but also incremental enlightenments. The earlier volume recollected romantic reveries and personal loss and longing interspersed with interrogatory asides and descriptive scenes and discourses of religious life. Sometimes religious matter was reworked into new contexts or reiterated to evoke a spatial and temporal threshold the poem channeled between worldly woes and unworldly miracles or maybes. Donahue's poems/poem take Beckett's dictum — to live the space of a door/that opens and shuts — to fundamental heart.

Over and over, Dissolves works like an occult procedural, trying different strategies of synthesis and interpretive penetration to find balance, if not full possession, among the artifacts, debris, monuments, and ruins it encounters....
Read the full review here.