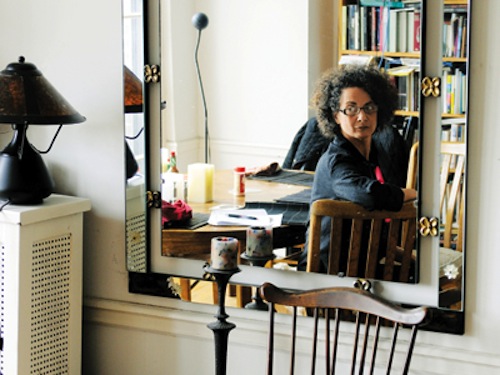 Oh, Lauren Berlant, we can't get enough of you. And it seems you have been reading Ariana Reines's The Cow. It says so right on your blog:
I have been reading Ariana Reines' The Cow. Three students gave me this book within a space of six months, and then I've given it to people who I thought could bear it and not a single person has been able to, which I find interesting (I mean, my failed judgment of my intimates is interesting to me). When I gift a book or a film it is personal after all, more than buying clothes for someone: an imagination of someone's pleasure in relation to a demand for their attention. Is it the kind of book my students give me because they sense that—actually, I don't know. It is as though they perceive frustration beneath my apologetic pedagogic poetics (Oh come on, try, this is hard, I can brainstorm a hundred examples and maybe maybe then you can and maybe you can hear something and surprise yourself later, which is how Bollas describes "the unthought known" in relation to the aesthetic, which doesn't represent what you know but provides a setting to encounter its impact.)

I am a love theorist, how did that happen? I was doing ideology critique and fell down the rabbit hole, the donut hole, the pipette. I have a book coming out with some older thought about all this, but the examples are all wrong. Always, the examples are all wrong, which is why love theory tends to be so conservative—ProustProustProustBovaryBovaryBovaryAbelardEloiseCourtly. It's not that the classics can't be wrong, it's that they won't be disgusting, and love theorists tend to have an aversion to the disgusting.

I sometimes feel dissociated from all my loves. "I've got to get out of here. I choose a piece of shawl and my dirtiest suntans."
We can't wait for that book, Lauren Berlant! Here's more we're chewing on from this post:
...and no wonder why having a real doll is a dream, because you can make it say "I love you"," "I desire you," "I'm sorry," "Does that feel good," and "Why did that bastard say that to you?" in an eternal loop of distant listening, light touch reflection, magnification, and shrinkage, an archive of impacts whose success or failure depends more than anything on the timing of the effort to assimilate to the lie that the statement of love is not merely a proposition. I moved from I to you. Distortion is not falsehood. Blame it on the failure of language to hold perfect phrases for the states that have multiple aims but do not stop communicating regardless.
Read it all here.