Who: Corina Copp
What: Poets House Showcase
When: Saturday, June 30, 2012
Where: New York
"Open Door" features audio, video, and online media to document dynamic interactions between poetry and its audience. "Open Door" showcases performance, scholarship, and engagement outside the usual boundaries of slams, workshops, and book publications. This week: Poets House Showcase.
***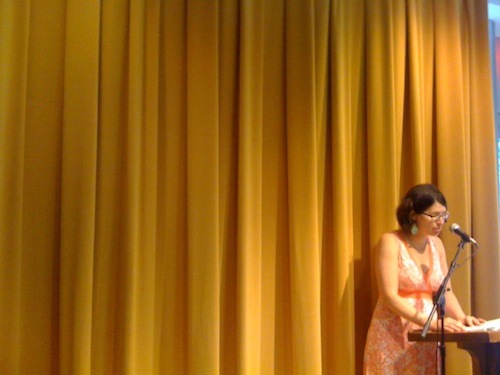 Upon my arrival to the 2012 20th Annual Poets House Showcase Exhibition Opening Reading (take that, Cap'n Crunch) a couple of weeks ago--Saturday, June 30, to be exact--I was greeted by all a summery (read: sweaty) chap (read: me as either small poetry pamphlet or Dickensian boy) could want in a singular moment: the minty Stephen Motika (later I realized that SM just recalls mint--really he was in light-blue plaid and gray linen) (any singular moment, Stephen!); some much-needed air conditioning; and a very organized staff, all breezing in and between clear cups of white wine, green-grape bunches, and well-designed thicklets of 8 1/2" x 11", which detail the hundreds upon hundreds of poetry books, authors, and presses--national and international--featured in the show. Worried I had missed miracles due to my late arrival (my friend Judah Rubin and I were held captive by a labyrinthine mall quite near the breezy River Terrace, not that it's much of an excuse for me, as I am notoriously out of joint), I was assured that the opening readings had only just started, and that video of proceedings was being projected in a room upstairs, since the main room was a Full House (and I don't mean our favorite afterschool TV show--did you know, by the by, that Uncle Joey and Alanis Morrisette were involved during the making of that program? Doesn't that blow your mind? I digress). Judah and I were "whisked" ('tis a proper journalistic term, right?) into the non-virtual room despite the grand audience, and sat on the floor right beneath Counterpath, Copper Canyon, and The Corresponding Society (to give merely a Swiss wafer of the happy accident that is alphabetical juxtaposition as organizing principle). We were just in time to catch one of my fav'rites, Julian Brolaski, shelling out some Advice for Lovers. Sat back against the shelves and took it all in, this "free exhibit featuring all of the new poetry books and poetry-related texts published in the United States in a single year (volumes by individual authors, anthologies, chapbooks, biographies, critical studies, essay collections, CDs, DVDs, etc.) from over 650 commercial, university and independent presses." 650! Here's some crowd. And pretty books.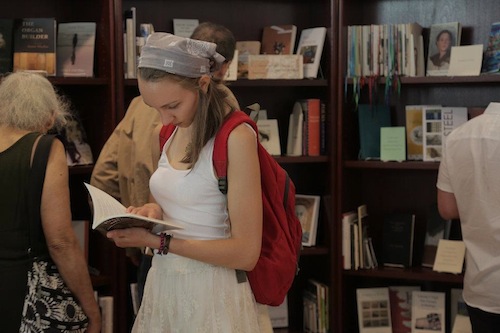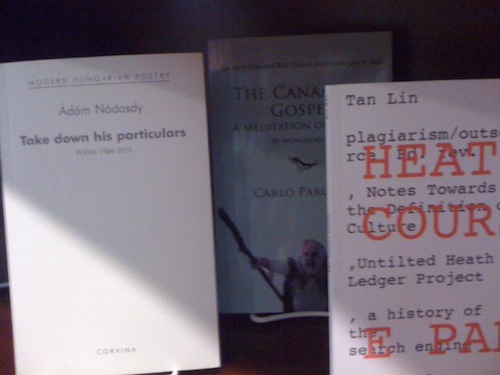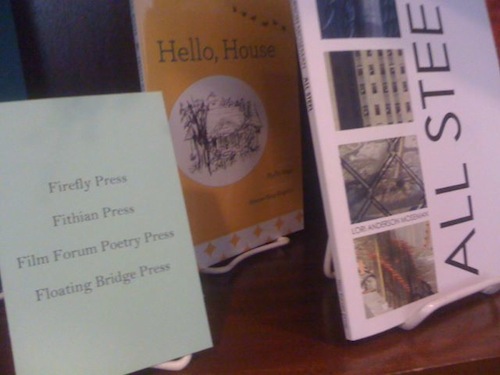 Following guest was Frances Richard--a great poet and budding foley artist--her mouth sonics are the envy of many an actual engine, noisy tulip, puppy, bluejay, Easter Bunny, and all else "As we speed away / without seeming to move." It was a rapt flapping of noise accompanying actual words, and the audience seemed delighted by the pure utterance. Richard observed lines of similarity among the readers thus far, breathlessly remarking after a poem, "We've had a lot of fucking and angels so far...every person." The thematics moved on to sleep, as Leonard Schwartz made his way to the Future (i.e., the dutiful goldenrod curtain that tracks the wall behind the podium), and charmed us with a small feuilleton about a son who may or may not be sleeping. "Wagner is one of the great sleep artists," he quipped. In the poem: "The son wants to be strong but does he really want to destroy all of his father's enemies?" Certainly not. Here's a glad Schwartz at the reception, alongside poets Mark Weiss and Murat Nemet-Nejat, who also read ("There is a ball of fire / inside your insides / and this is your fortune"; "But your lips still taste like lips" AND HOW ABOUT "The ejaculatory force of the eye / my darling"). Phewwww, thank you, Murat!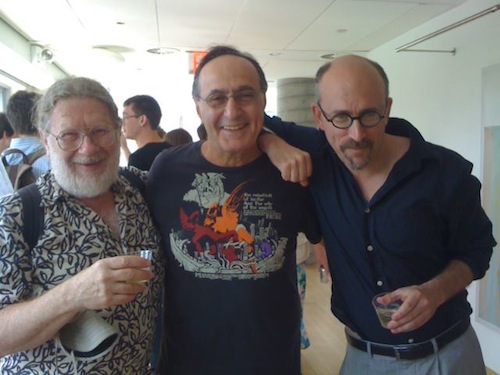 Now, if I might employ a technique frequently used in Shakespeare and film comedies--e.g., Bob Hope "Road" movies, those by Mr. Woody Allen, and in Ferris Bueller's Day Off--let's step aside for a moment. "A little more than kin, and less than kind." The last time I was at a Poets House Showcase opening was an early evening in 2004 or thereabouts, after we closed up shop at The Poetry Project and cabbed over to Poets House's former home, at 71 Spring Street. My coworkers and I gladly supped and looked at books, and if I recall correctly, I stumbled out into the night with a new pencil. This Saturday was much different--and it's not so much the new, gorgeous, glassy, city-supported, environmentally sound space in downtown New York, which we're all used to by now, nor the scale of the Showcase, though I'll get back to that--but the Sheer Energy of the thing. Is that a pantyhose? No, f'real: There's no screen on the ethos of Poets House. All who read at the event and those who attended were very clearly into its focus on the "everythingness" of this collection, as poet and Executive Director Lee Briccetti explained it to me later. The beauty of Poets House and this very significant annual show is that its aim is, in fact, to collect everything--a comprehensiveness that relates not only to our current year in publishing, or the incredible fact that ALL OF THE POETRY BOOKS PUBLISHED IN 2012--whether from Norton, New Directions, Ugly Duckling Presse, Dusie Kollektiv, Flim Forum, HarperCollins, Wave, Shearsman, or Greying Ghost, por ejemplo--go straight into the Poets House library, but that an import is thusly placed on the book. That touchable, papery relic of your(s). Remember such objects? Of course, you adore them.
At first, I wanted to emphasize in this piece that Poets House is, as their motto has it, "a place for poetry." Naturally, you can visit the library and work in peace and quiet almost any day of the week, and many poets, writers, librarians, students, and auto-didacts are plenty fond of this fact. But the more I think about it, the more pleased I am that Poets House had the original realization, in their inaugural Showcase year of 1991, that poetry and print had truly reached a summit, a "golden age of publishing." Briccetti called it their "Ah-Ha" moment: "Desktop publishing changed the means of production," she said; and yet here we are among the physical stacks. They were keen to note just how many small and independent presses were distributing good poetry, reflecting a biodiversity in publishing theretofore unseen--remember when it seemed only one or two larger presses determined what people read? Talking "big" "picture" here, dear readers.
And so, 10 years after the New York Public Library told Briccetti that Poets House needed a "stance" on collecting, that they "collect[ed] too much" (there was an early attempt to grow the library at the NYPL, later nixed), the largesse and diversity of the 50,000-volume (and counting) collection—from rare 1970s poetry journals to special ephemera donated by W.S. Merwin to this year's Showcase—has become, through much, much effort, a very clear stance. And lest one think its primary differentiating factor (math langue!) from other literary centers is pure accessibility (certainly, this can be said), we might also consider its tenor of invitation. This sense fuels all the goings-on, it seems, from the River to River Festival (last night! free John Ashbery!) to Motika's own tireless public programming. Speaking of, how bout that Opening Reading I was waxing on earlier. You know who else was stellar? Leigh Stein... "What dystopia?" "What home for infants?"
Here's Stein, beflowered, with friend and Couplet Reading Series coordinator Leah Umansky, at the reception.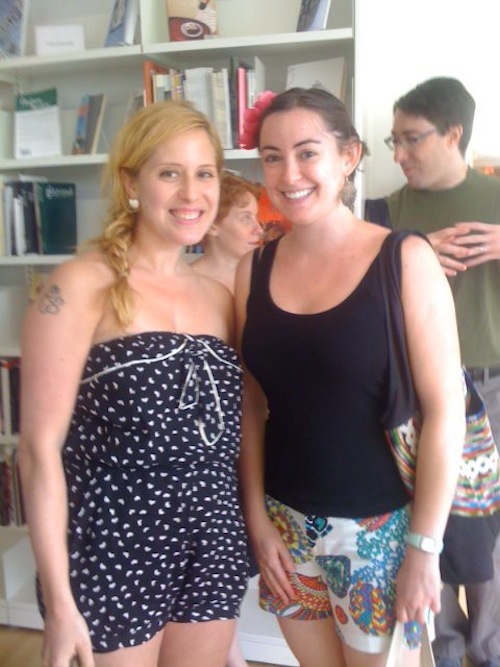 Not to exert too much more semantic pressure, but there's condensation out there today, and it'd be an awfyl shame not to detail what else good I caught: Martha Rhodes's "entire pastures swelling," her speaker's eyeballs leaking black post-coital fluid (no, not tears—this was my favorite moment of the day, I think); or Scott Hightower's lovely Southern lilt; Idra Novey's alternate universe, where the single word "prison" is repeated with a bubbling, hyper almost-passion; or my friend Thom Donovan's radical turning of the room to his desire for total empathy, his gravelly reading voice eroding and connecting at once ("loss is the use"); or Aracelis Girmay, recalling the phonemic joy of Frances Richard from the top of the day with her florid pronouncements ("Arra-celees," "little propellor of my name"); my fondling (sorry) of Michael O'Brien's beautiful book Avenue (Flood Editions) as he spoke—a delicate older gentleman, if we go by appearances (and severely under-read, I'd wager), who mirrored my general unright sense with one line, "When I was young...and miserly." Mónica de la Torre did us the favor of reading from Four ("Kill Bill is no film by a woman")....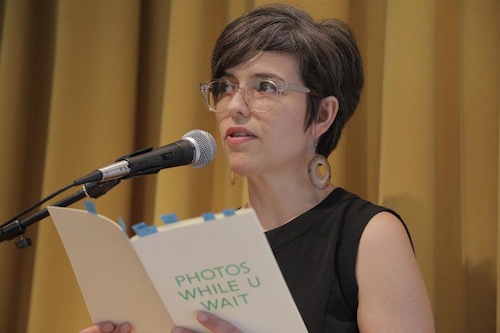 Steadily on into the watermarks, Eduardo C. Corral had a pocketful of horses; Cathy Park Hong marbled her Kansas lipograms; a surprise of Pierre Joris stepping in to read at last minute (as did I, disclaim, disclaim, in an insecure rush, but thank you, Stephen!); and Eileen Myles closed us out with new poems: "What are men dreaming, other than all women are stupid and in love with them?" More onslaught of dreams as the perfect object. Later: "Never say anything bad about anyone who went to Harvard. That obsesses me. How could you say anything good?" [….] "You'll get a donut too." You bet. I stretched, looked about, replaced my chap in its little holder, handfulled some fromage and poured seltzer down my gullet, and then whisked myself (ow) out into the evening, as it were (hours and hours later; bless you idle inclinations), and up to see As You Like It in Central Park...also late, hot, sans teeth, sans eyes, sans "everything."
For more Showcase Opening program info, including the full list of readers, please visit Poets House. Or please visit Poets House. XCC


(If you would like to pitch an "Open Door" feature concept, please e-mail harriet@poetryfoundation.org with "Open Door" in the subject line.)
Corina Copp is a writer and theater artist based in New York. She is the author of The Green Ray (Ugly Duckling Presse, 2015); and chapbooks All Stock Must Go (Shit Valley Verlag, 2014); Miracle Mare (Trafficker Press, 2013); and Pro Magenta/Be Met (Ugly Duckling Presse, 2011).  Her poetry, performance texts, and critical writing can be found in Cabinet, BOMB, Corrected...