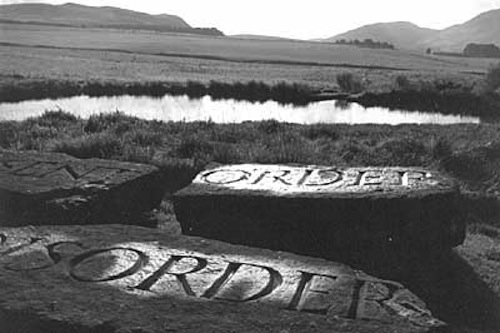 The Ingleby Gallery has an upcoming exhibition, "Ian Hamilton Finlay – Twilight Remembers" and Fruitmarket Gallery will offer up "Dieter Roth: Diaries."
From the Financial Times:
Ingleby Gallery's exhibition draws on Hamilton Finlay's work in many media but its core is a rediscovered major piece from the late 1970s, "Carrier Strike": a representation of an epic sea/air battle enacted on the surface of an ironing board. The board is the aircraft carrier, surrounded by destroyer irons and small model planes among cotton wool clouds. This mock-drama is set to music by John Purser, and in it narrative playfulness, cross-over genres and invocation of the domestic resonate with contemporary art now. Trips to Little Sparta from the gallery take place on August 3, 17, 24 and 31.

At Fruitmarket Gallery, Dieter Roth (1930-1998), another radical artist of the same generation for whom writing poetry and book-making were an essential part of an anarchic, open-ended mixed-media practice, gets his first showing in Scotland since 1970. The exhibition considers his work as different kinds of diaries: "Flat Waste" was a memorial to a year of his life created by preserving from it any piece of rubbish less than one-eighth of an inch thick; "Solo Scenes" is a vast video diary recording his final year on 128 monitors. Both shows are highlights of this year's Edinburgh Art Festival, and emblematic of its increasing gravitas.
Full article here.