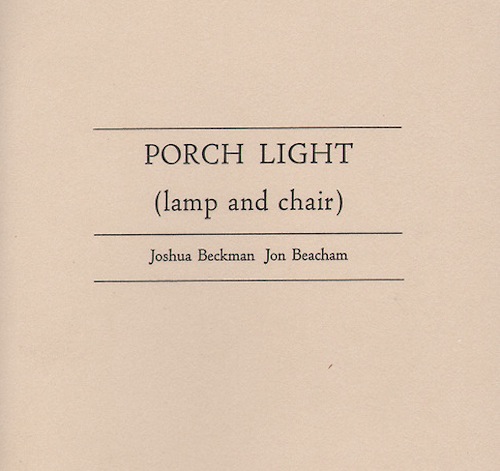 We've just heard tell of a new book from Joshua Beckman, this time in collaboration with filmmaker, printer, bookseller and artist Jon Beacham, who runs The Brother in Elysium. The two nominally similar gents are having a party in New York to celebrate the release...details b'low. Also note it's the closing of a lovely exhibition:
The Brother In Elysium is Proud to Announce the New Publication

Porch Light (lamp and chair) by Joshua Beckman & Jon Beacham

Book Release & Closing Party This Friday, July 27th 6:30-10 pm

This book took shape over the last year of discussing ideas and sharing work with each other, and evolved into a collaborative book of poems and collages. The whole production being a handmade affair. Type has been set by hand, and printed letterpress. The signatures sewn by hand and bound into letterpress wrappers. Collages printed color offset. Edition size is 300 copies.

The care and attention put into this book is a new level of production for the imprint, and is the direction The Brother In Elysium will be moving into. The addition of color offset printed artwork, combined with letterpress printing of type, which was used in this publication, will be a focus in upcoming publications.

This book is being offered for a short time for $40, which is close to a trade publication price. It is offered at this price to make it available to people who are interested in buying the book that do not have a lot of bread. This is an artist book that included a huge amount of labor. It was produced in a larger run so that an initial price point can be affordable to most people. It will not be $40 for long because I need to eat and pay my rent, bills etc. Making books by hand takes time.

[...]

*** We will celebrating the release of this book Friday July 27th at 222 Roebling St in Brooklyn from 6:30-10 pm. ***

We will also be celebrating the final night of the exhibition "Last Things and Other Forms" by Herbert Pfsotl & Jon Beacham.

This is the last chance to see this work on display. Four of the works in this exhibition are also in the new publication.
An image from the exhibition: