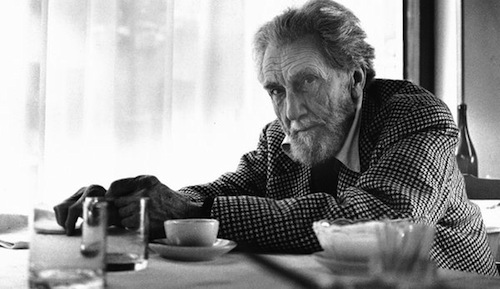 Scholars rejoice! This posted today at the Beinecke Library:
Recent acquisitions of Ezra Pound letters and manuscripts present new research opportunities in the Beinecke Library's collection on Modernist literature. Fearless researchers will appreciate Pound's letters, dense with obscure abbreviations, literary references, and political opinions. The language of his correspondence reflects his erratic, irreverent, and idiosyncratic character.

Beinecke acquires manuscripts relating to all aspects of Pound's life, though recent acquisitions focus on his time at St. Elizabeth's Hospital in Washington, D.C. (1945-1958). Tried for treason in 1945 on charges stemming from his broadcasts on Italian radio during the Second World War, Pound was committed to psychiatric care in lieu of prison. Recent acquisitions document his activity during this 12-year confinement, during which he maintained a prolific correspondence.

Pound's lawyer Robert Furniss advocated for the release of America's "greatest living poet" who was "mentally incapable of defending himself." The documents and ephemera in the Furniss collection detail the public controversy surrounding Pound's incarceration. Correspondence between Furniss and Pound document their legal strategy as Furniss defended "Mental Health No. 31113" (as Pound was identified by the court) from charges of treason.

Reading Pound's correspondence, researchers can delve in to his relationships with, and influence on, younger poets. Such is the case with Pound's letters to poet, composer, and performance artist Jackson Mac Low. In addition to discussing literature and politics, Pound defends himself from charges of anti-Semitism with the inflammatory remark that "some kike might manage to pin an antisem lable on me IF he neglected the mass of my writing."

These new additions complement Beinecke's vast collection of material relating to Pound and to other figures of the Modernist literary milieu. Beinecke continuously adds to its exciting Modernist collection, which consists not only of the vast and comprehensive literary archives of Pound, H.D., Gertrude Stein, William Carlos Williams, and Mina Loy, but also numerous small collections and individual letters, manuscripts, photographs, works of art, and books.
A full listing of the additions can be found here.