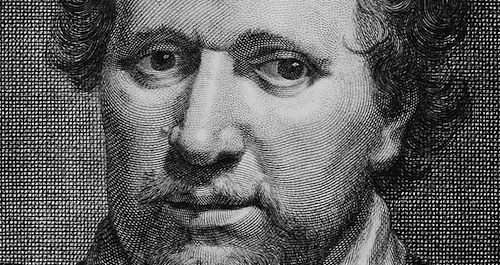 Slate posted a nice bit of poetry criticism by Robert Pinsky today. Using poems by Walt Whitman and Elizabeth Bishop as launchpads, Pinsky dives in to Ben Jonson's "On My First Son" to bring out the virtues of the poet as speaker:
I'm moved by Jonson's "On My First Son" in what might be called a personal way: The first-person pronouns and his name make me feel that the poet is speaking personally, about his child's death. Quite aside from reference books that tell me the death did happen, from the plague, in 1603, the poem has the quality of—I won't write sincerity—conviction. Maybe even more than with the examples from Bishop and Whitman, I'd find it weird to speak of Jonson's "speaker" in "On My First Son." That terminology would provide a way of discussing the poem as a work of art, or a work of rhetoric (it is both)—but that would be true of any editorial, any reporter's story in the political, or sports section. In a way, I suppose anything anybody ever writes or says is a "dramatic monologue" to different degrees. We all use a "persona" or mask, to some degree, all the time. Doesn't a poet, at least sometimes, have the right to express herself as not just (in Bishop's terms) "an Elizabeth" but a particular Elizabeth, on a particular occasion? I think that in this poem, "Ben Jonson" means Ben Jonson.
Read the full post at Slate.