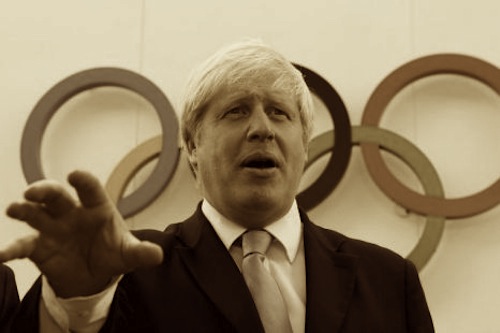 Boris Johnson, the mayor of London, has announced plans to recite a poem in Ancient Greek during his speech to the International Olympic Committee. A classicist at heart, Johnson commissioned the work to be written in the style of Pindar, a Theban poet who praised athletes at the original Olympic games in ancient Greece. The Guardian reports that the poem's author, Oxford's Armand d'Angour, has included a few Easter eggs for the devoted Greek scholar and Olympic fan:
The conceit of D'Angour's poem was suggested by Johnson, who noted that the Greek for "bolt" was "asterope". Thus came the idea of concealing athlete's names, in this case that of Usain Bolt, in the verse.

The stanza that refers to the Jamaican sprinter reads, in its English translation: "They will observe with rapt delight/ the archer draw his bowstring tight,/ the skillful rider guide her horse,/ and lightning bolt around the course." Diver Tom Daley and heptathlete Jessica Ennis are also referred to.

Johnson himself appears, described punningly as "barus", an adjective meaning, according to D'Angour, "weighty or deep-voiced, both of which Boris is". However, the poet may be also intending something more subversive, since "barus" also means "burdensome", "grievous" and "oppressive".
You can read the full post here, and the poem (in both ancient Greek and English) here.