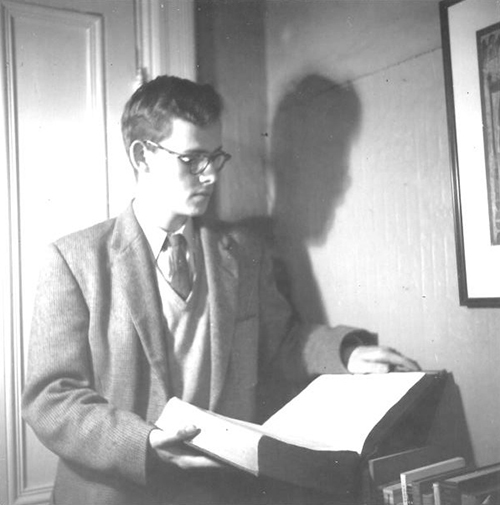 We were greatly saddened to hear that Daryl Hine, former editor of Poetry, passed away in his Evanston, Illinois home on August 20. Evan Jones informed us of the news: "He caught something on Saturday and with his weakened immune system didn't have the strength to recover. I spoke to him two weeks ago and he was stable, had just bought a new MacBook and was at work on his own version of the Argonautica (as told by the ship)."
Hine served as Poetry's editor from 1969-1978, after a brief term as visiting editor while his predecessor, Henry Rago (editor 1955-1969), took time off from the magazine. Hine had previously published work in the magazine during the 1950s and 1960s, and continued to do so throughout his editorship.
X

It is the archaeological view
That holds that [life] is short and [art] is long;
Its partisans the erstwhile happy few
Who know to whom the particles belong.
Yet both the ancient tongues I thought I knew
Proved in the mouth irrelevant or wrong:
And in their place I have to offer you
These comprimés of analgesic song.

(From his twenty-five-part "Linear A," Poetry, August 1972)
A rigorous and enthusiastic formalist with a keen interest in Greek and Roman mythology, Hine welcomed poets with diverse approaches to form. Under Hine's tenure, the magazine welcomed a variety of new contributors, including David Ferry, Sandra M. Gilbert, Sandra McPherson, Robert Pinsky, Ron Silliman, Mark Strand, Anne Waldman and many others.
The Canada-born Hine may have been "out of step with the nationalist project that took hold of [Canada] in the sixties," as Jason Guriel writes in his review of Hine's Recollected Poems: 1951-2004 in January 2008, but his work "gleams with what sonneteers used to call sprezzatura, the confident, making-it-look-easy gloss that greases great art."
For more insight into Hine's term as editor of Poetry, read "From the Archive: Daryl Hine," composed by the Poetry Foundation's online editors, which includes a slideshow of Hine's poems and a few of the issues published under his editorship.
You can read Hine's last appearance in Poetry, from "&: A Serial Poem," in the December 2009 issue.