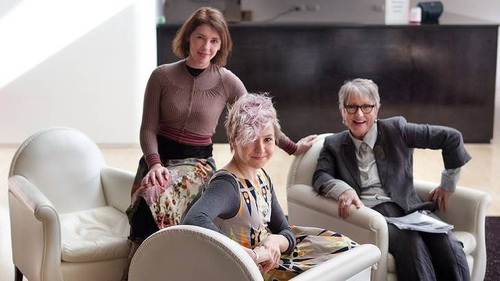 Emily Dickinson is blowing up, huh? From The Sydney Morning Herald:
One of Melbourne's favourite singers, soprano Helen Noonan [far right in photo above], is returning to the stage with her sellout show from five years ago, Voicing Emily, exploring the life and poetry of American poet Emily Dickinson.

"It is beautiful music and many people felt it needed more exposure," she says.

But Noonan had to stop working for two years while she recovered from breast cancer in Hobart (where she enjoys dealing with wallabies in her vegetable patch with Mount Wellington in the distance).

Fit and healthy now, she is looking forward to the two performances of the work at the Melbourne Recital Centre on the weekend.

Noonan describes the work as a lieder opera, with the two singers from the original season, Theresa Borg and Caity Fowler, joining her to play the poet at different stages of her life.

The singer discovered Dickinson's poetry when she was performing musical settings by Aaron Copland and found the poetry helped her make sense of her own life.

"She makes sense of mortality and intensifies my enjoyment of living," Noonan says. "I'm trying to give an idea of how deeply she affected me in so many dimensions."
Full article here.