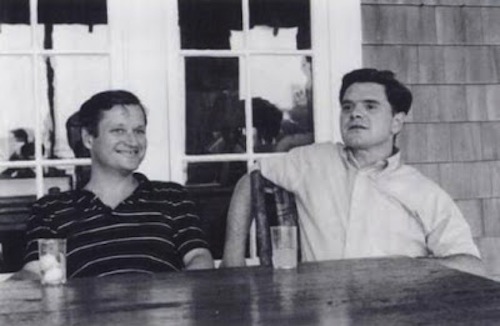 Once again at Isola di Rifiuti, John Latta has a great post: while "looking for something only tangentially related to [James] Schuyler—a copy of anything indubitably typed on Frank O'Hara's Museum of Modern Art office typewriter," Latta discovered two unpublished Schuyler poems:
Found: two (seemingly) previously unpublished James Schuyler poems. Or uncollected—neither is included in either Schuyler's Collected Poems (1993) or Other Flowers: Uncollected Poems (2010). Found whilst cyber-rummaging through the Fairfield Porter papers at the Smithsonian's Archives of American Art.
You can read the poems in full at the blog. Also intensely interesting are Latta's notations following the poems:
Typed initials: "JS." With date beneath: "8/18/73." The short declaratory statements attempt to stake out moments of surety (and betray a sparse tenuousness, a meager hold)—something accomplished nigh entirely by rhythm, the chopped off lines, abrupt, like nails hammered into the day's dilute tenuity . . . (At the end, the mere stretching of a sentence out beyond the couplet causes a momentary easing, a relief—a chord played after nervous plucking. Another way to say it: after a disjunct series of opposing states ("My room is hot. / . . . / My room was cool" or the rather audaciously pared down and blandly officious "The day passes and / evening arrives. // Evenings pass / and mornings come"), the momentary burgeoning of desire for something so combinedly complex ("sleep" and "glorious days") provides a release (out of an "unfroward tetchiness" hardly suspected, though sensed).

* A phrase out of Schuyler's "A Blue Shadow Painting" (in Other Flowers) a piece (dated "Grace-New Haven Hospital / April 8, 1961") dedicated to Fairfield Porter and sent to him with the following note:
Jan. 9, 1962

Dear Fairfield,

I knew I had written a poem in the hospital, and that it wasn't a bad one, but I never could find it. Of course it's about the small painting you gave me when I went to New Haven. Now, much later than I meant to, here is a present of a poem about it.
You may be sure that John Ashbery is my best friend; I'm not.
I borrowed twenty dollars from Wystan Auden in my loss-hysteria. Art News has GOT to pay me!
Please show the poem to Anne and ask her if she likes it.
I miss you.
love,
Jimmy

Typed, signed. Terse with fragility.

By sheer coincidence I nigh-simultaneously come across John Ashbery's remarks about Schuyler's "The Master of the Golden Glow"—out of condensed interview detritus (an interview conducted c. 1977 for Andy Warhol's Interview and subsequently shelved) printed under "Ashbery" in The Poets' Encyclopedia (1979):

Lindsay Shapiro once told me I was "The Master of the Golden Glow." That's the title of a poem by James Schuyler. She said Fairfield Porter told her. But I think he meant someone else. At Deerfield I painted a copper pitcher a number of times and got very expert at the highlights. lt was my favorite subject as a matter of fact because l got so good at it, and maybe Fairfield thought that that was what the James Schuyler title referred to, but I don't think that it's true. I think The Master of the Golden Glow was another painter, but I don't know which one.

(Towards the end of the interview, Ashbery admits: "I've been very influenced by Jack Benny. I used to do a very good imitation of him which went: 'Hm . . . Well!' And of course the Rochester connection. Yes, boss?") Schuyler's "The Master of the Golden Glow":

An irregular rattle (shutters) and
a ferule tapped
on a blackboard—or where you come from
do they say chalkboard?—anyway it's not any sort of pointer
it's a sash facing west
wood and glass drummed on by autumn tatters.
Say, who are you
anyway? "I think we may have met before.
God knows I've heard enough about you."
That largest maple—
half its leaves an undreamt of butter:
if only safflower oil
were the color of its name
the way olive oil is. "Why,
don't you like butter?"
The doctor's youngest son
paddles the canoe while he (the doctor) casts
for mud-flavored carp in the long brackish pond:
Agawam, meaning lake. Lake Pond,
Pond Lake, Lake Lake, Pond Pond,
its short waves jumping up and down
in one place with surplus energy to spend.
Somewhere, out of the wind,
the wind collects a ripe debris.
"I'll tell you who I am: someone
you never met
though on a train you studied a boil on my neck
or bumped into me
leaving a late late party

'Sorry'

or saw throwing bones in the ocean
for an inexhaustible retriever."
The wind drops. The sky darkens
to an unfathomable gray
and through hardware cloth one
leaf is seen to fall
describing the helixes of conch-shell cores
gathered in summer, thrown out in autumn.
More litter, less clutter.
I love that poem. All its tiny precisions ("hardware cloth" and "helixes of conch-shell cores").