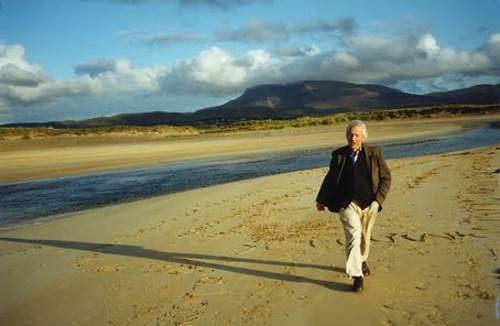 A young Samuel Menashe fan waxes nostalgic about a memorable 2006 reading at The Paris Review, describing the late poet's captivating voice and style. Menashe, who died in 2011, is known for his short, precise poems, which were apparently so powerful that they commanded the attention of a fairly young audience:
The audience, mostly college students with a significant bro contingent (I'd never seen so many polo shirts at a poetry reading) seemed ready to be bored. So when Menashe—ancient, white haired, smiling—tottered up to the podium, the deck seemed stacked against him.

But then Menashe began to recite his first poem—he read from memory—and this small, wizened man's unusually rich, musical voice commanded attention. Each word seemed outfitted with reverb; even the dudes in polo shirts leaned forward, as if against their will. Menashe read another short, rhyming poem, and another. I'm not sure exactly when the light, musical charm of those first poems became something more like a trance, but by the ninth or tenth (extremely short) poem, the Columbia classroom we were in felt more like an old theater. It was as if the lights had dimmed. Each syllable he pronounced was so deliberate and convincing we hung on every line. His controlled, charismatic pacing gave even the silences—between words, between poems—a seductive pull. And as I sank into his reading, the images and structures of the poems came into sharper focus.

...Over time, though, Menashe's work became increasingly important to me. Now, left with a CD and an inscribed book [...] and an embarrassing memory of being awkwardly distracted from the importance of his work by a pretty girl, I felt deeply sad. But also grateful he took the time to record his poems. As he reads his time capsule–like introduction, different Samuel Menashes constellate around my computer speakers like in one of his poems. The voice of a living poet present in a room (a recording studio)—recording himself for a time and place far in the future (now), imagining what it would sound like to people (me) after its own death. And me on the other side, listening to it after his death, vividly remembering him alive and reading poems that were trying to take a morbid peek at where I now stood.
Learn more about Menashe's final readings here.