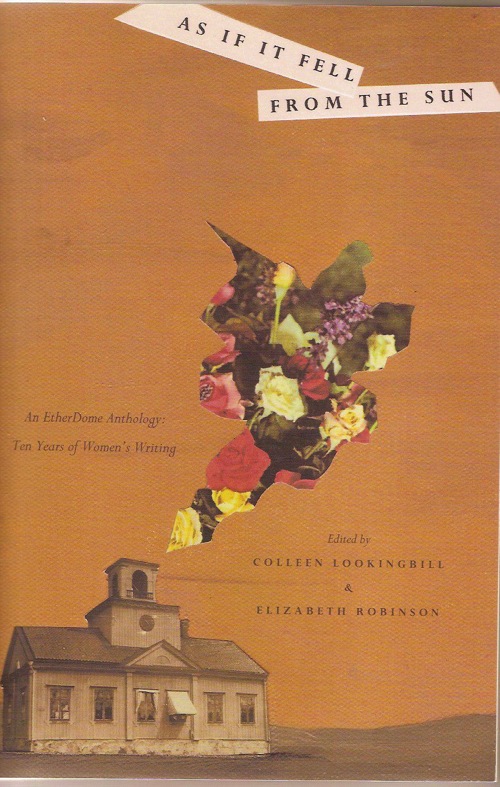 Lots of neat things going on at Omnidawn's OmniVerse, including the recent feature, this time edited by Sara Mumolo--in general it's "a conversation with the publisher of a small press or periodical, a poet they have chosen to highlight, and one of our OmniVerse staff writers." And "[i]n this installment a poem and audio recording of the featured poet, Stacy Szymaszek, follows the conversation" with Elizabeth Robinson and Colleen Lookingbill of EtherDome Press, which has just published an anthology of highlighted work from each EtherDome chapbook author published over the years, As If It Fell from the Sun. What follows is a bit from the conversation:
SM: If poetry in this country is characterized by communities, can you talk about which communities acted as a catalyst for you and Colleen to create EtherDome? How do you see As If It Fell from the Sun conversing with these communities?

ER: Colleen and I have senses of community that are both overlapping and divergent. As we note in the introduction to the anthology, we met in a workshop taught by Dodie Bellamy, so I think that one thing that is intrinsic to our approach to writing is that people write together, in community, in friendship, in exploration. So many of our authors came to us casually—I think Colleen chose some of her writers from a reading group she was in, and at least one writer I chose was also from a reading group I was in. We published some of my former students. Rosmarie Waldrop sent me a writer with whom she had worked. I used to have a reading series in my backyard in Berkeley, and we found some people there. On trips to Milwaukee and wonderful Woodland Pattern, I met Stacy Szymazsek who later came and read in my backyard and Colleen heard her and said, "We must publish her!" When I went to read in the Twin Cities, I met Kelly Everding. So a lot of it is serendipitous, but I would note that people who have excelled in creating community—like Woodland Pattern or the Waldrops at Burning Deck, or Rain Taxi happened to overlap in fortuitous and generous ways with our project. And then people like Kate Greenstreet and Erica Lewis and Stacy Szymazsek and Sarah Suzor have gone on in various ways to do their own community-fomenting projects. Lisa Rappoport has been doing small press work for quite a long time as well, and Caroline Crumpacker did a lot of work with Fence and, now, the Millay Colony. I'm extremely happy that we've worked with people who have not only gifts as poets but agency within various writing communities.
And heeeere's Stacy:
ER: Stacy, Sara has invited me to ask you a question, so here goes. I'm interested in how your work at Woodland Pattern and at the Poetry Project have impacted your sense of what it is to be a contemporary poet. Also, your work with Gam.

Stacy Szymaszek: I dedicated Hyperglossia to Woodland Pattern and The Poetry Project for giving me a life in poetry. My life as a poet pre-1999, or my sense of it, was quixotic and tinged with abjection–or, to be more succinct, it was without community or structures to support community. I was working as a prep cook for a catering company after having moved back to my hometown of Milwaukee after a six-year absence. I was twenty-nine and declared my adventure into the world to become a poet a total failure. I worked a minute away from Lake Michigan, so often sat on this craggy Bay View Beach, to recover. I started to write two to four line poems, not about the water but in an attempt to reconnect with the concept of ebb and flow. A friend of mine got a job at Woodland Pattern, and I said to her "I need to work there." I got an interview and was initially hired as part time assistant to the Education Coorinator.

My memory may be wrong on this, but I think I went to a lunch hour writing group there before I started work, and it was the first time I shared my poetry with a group of disciplined poets who were thinking about poetry and language in a radical way. In addition, I had access to an almost unbelievable collection of small press material, all new to me, that seemed to be waiting for me and my about to be new poet friends. I went about reading things by press (Pig Press, Broadside Press, Something Else Press, Telephone Books, Tuumba, Corinth, just to give you an idea of the range of what was there at the time). I also learned that in small nonprofits, there is often more work to be done than there are people to do it. So there were opportunities to make myself useful in new ways, to Woodland Pattern, The Poetry Project—and to really challenge my rather limited sense of my own capabilities.

My sense of being a poet necessarily includes working on infrastructures that support poetry and afford some dignity to a vocation that is purposefully maligned. Having public forums for our work is essential, but keeping those places functional and vibrant is an art in itself....
Read it all here.