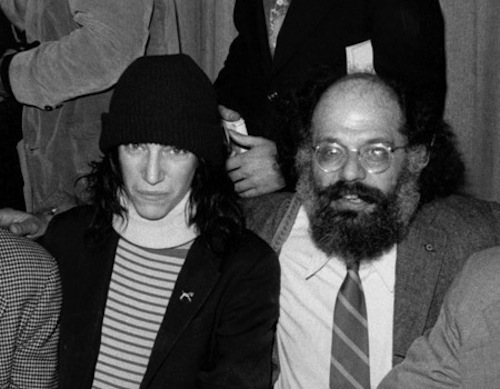 In our culture of fame worship, there's nothing more exciting than when two celebrities meet—and this doesn't exclude us poetry fanboys and fangirls. A recent New York Times review of "Hello Goodbye Hello," by Craig Brown, describes several "famous meetings" involving some of our favorite poets, including this gem:
It's November 1969 and Ms. Smith is trying to buy a cheese sandwich at the Horn & Hardart Automat on West 23rd Street in Manhattan. When she finds herself a dime short, Ginsberg approaches her and asks if he can help. He offers her the extra 10 cents and also treats her to a cup of coffee. The two are talking about Walt Whitman when Ginsberg suddenly leans forward and asks if she's a girl.

"Is that a problem?" she asks.

He laughs and says: "I'm sorry. I took you for a very pretty boy."

"Well, does this mean I return the sandwich?"

"No, enjoy it. It was my mistake."
Find the full article (which also notes T.S. Eliot's friendship with Groucho Marx) here.