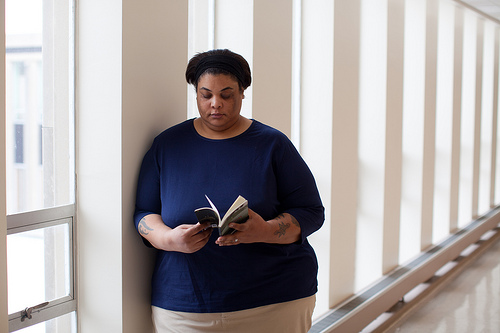 Hop on over to Roxane Gay's Tumblr for her list "How to be a Contemporary Writer."
Here's a few from the list:
5. Accept that sometimes literary success is political and/or about who you know and that's not likely to change. Yes, celebrities are going to keep publishing terrible books. Yes, Lisa Rinna's Starlit is an actual thing. I read the book and… I'm scarred. But. You're not getting better as a writer, worrying about the system.

5a. If you're a woman, writer of color or queer writer, there are probably more barriers. Know that. Be relentless anyway. Strive for excellence. Learn how to kick the shit out of those barriers. Don't assume every failure is about your identity because such is not the case.

6. Accept that sometimes cream actually does rise to the top and hard, consistent work will eventually get noticed, maybe not in the way you envisioned, but some way, some how.

7. Understand the actual odds and learn to love the slush pile. The slush pile is not your enemy. It's actually one of your best friends.The truth is that a significant percentage of the slush pile, which I prefer to call the submission queue, is absolutely terrible because people are lazy and will submit any old thing. If you can write a good sentence you are already heads and shoulders above most of what is found in submission queues. You're not competing against 10,000 submissions a year a magazine receives. You're competing against more like 200. Those are still intimidating odds but they're also far more reasonable.

8. Be nice. The community is small and everyone talks. Being nice does not mean eating shit. Being nice does not mean kissing ass. Being nice just means treating others the way you would prefer to be treated. If you're comfortable being treated like an asshole, then by all means.
There are twenty-some more on the list. Go see!
Photo by Jay Grabiec.