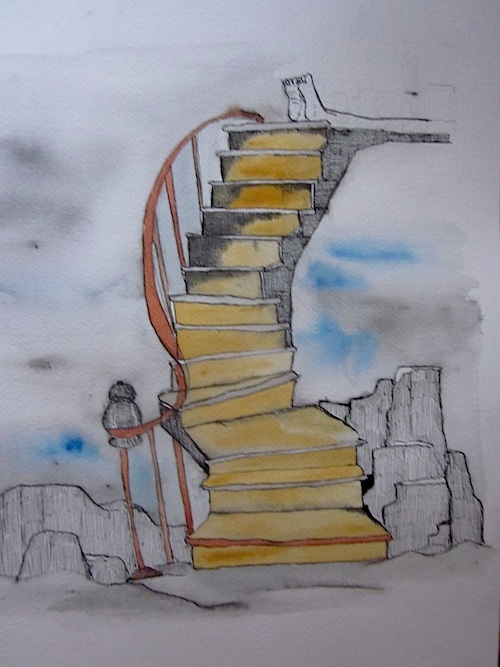 Two reviews of Anne Carson's Antigonick, which was released in May, reveal the strengths and weaknesses of the Canadian poet's non traditional translation. The first is mostly negative, hailing from the Times Literary Supplement. Calling the original "Antigone" the "most adult, unsparingly formal and radiant of masterpieces," the reviewer takes issue with Carson's "populist witticisms" scattered throughout the text.
...the voice-overs by Hegel, Virginia Woolf and Bertolt Brecht are a facile diversion. Kreon's "new powerboat", Antigone's "Bingo", her desire "to lie upon my brother's body thigh to thigh" are vulgarities which subvert this most adult, unsparingly formal and radiant of masterpieces. Inspired by Hölderlin's idiosyncratic but incomparable rendition, Heidegger declared the famous choral ode on the nature of man to be the foundational statement in Western civilization. Elizabeth Wyckoff's version, one among so many, is lucidly attentive. Why Carson's "customers" instead of "man"? Why this "hilarious cantering" or the all but total omission of the cardinal theme, that of the unhoused wanderer (apolis), outcast from the civic hearth – a theme which crystallizes the Sophoclean reading of the human condition?
However, the reviewer does make time for some praise, saying "at intervals, lightning does strike."
Guernica's review is more celebratory, and dwells on Bianca Stone's illustrations.
It may be tempting to dismiss the illustrations as merely quirky—one of the Chorus bears the Star Trek insignia on its chest, while elsewhere a figure wears a football helmet. But these touches serve to heighten the absurdity and dark humor of the senseless world Carson has created. Take, for example, the dictator of Thebes and arguably the true tragic character of the work. Forever refusing to heed the wisdom of others, Kreon relents at the last, only to find his family dead and his city in despair. However, Kreon's is a tyranny beyond political power. He first enters the play with a decree: "Here are Kreon's verbs for today: ADJUDICATE LEGISLATE / SCANDALIZE / CAPITALIZE" and, "Here are Kreon's nouns: MEN / REASON / TREASON/ DEATH/ SHIP OF STATE / MINE." Kreon is an autocrat of language; his words are his people's words, because he declares it so. Indeed, when the Chorus reminds the despot that "mine isn't a noun," he replies simply, "It is if you capitalize it."

This is what a Carson-infused lyricism looks like. The residue of our English teachers' Antigone is there, but Carson and Stone have crafted something of an entirely new spirit. While the poet and her illustrator stray from the expected narrative, the tragedy of the work isn't lost on anyone. The Chorus utters what is perhaps the most terrifying line, isolated on its own page: "Your soul is blowing apart." It's hard not to shudder.
Which side do you fall on? Read the full Guernica review here, and the full Times Literary Supplement review here.