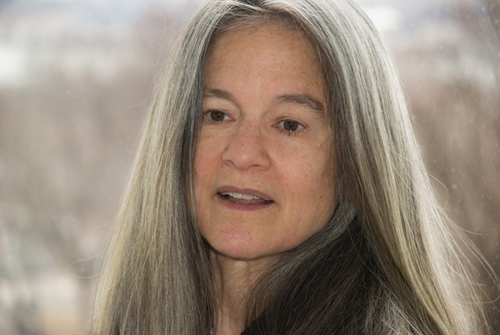 Vogue magazine has embraced Sharon Olds's latest book, Stag's Leap, in its September issue, calling her "our foremost poet of the self in all its seasons." The book, which is personal in a way that only Sharon Olds can be personal, relates details of the poet's divorce in 1997.
Olds evokes the pained aftermath of his departure—"a flurry of tears like a wirra of knives thrown at a figure, to outline it"—in often blisteringly funny images. A French bra glimpsed in a lingerie shop window is no instrument of seduction, but rather a "silk biplane"; a photograph of a swimsuit-clad woman fished out of the laundry along with her husband's running shorts is the "surprise trout of wash-day." In a section entitled "Years Later," her husband seems to float away, like a "Chagall bridegroom, without the faithfulness."

"I was never good at being angry," says Olds, who wrote hundreds of poems over the course of that year, 49 of which are included in the collection; out of deference to her children (a son and daughter, both grown), she waited a decade to publish them. "The right to be angry: I'm learning it now, and I must say I'm having a wonderful time learning it slowly—anger tends to be eloquent! But it's also kind of scary."
To read more about Olds and Stag's Leap, head over to Vogue.