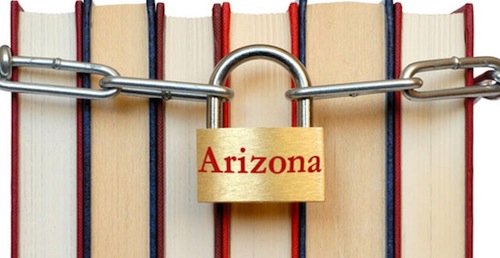 In further banned books news, City Lights blog points us to the Arizona Ethnic Studies Network. What is the network about? This:
AZ Ethnic Studies Network is a statewide network of educators and concerned individuals who are participating in regional groups to educate the public about Ethnic Studies and why it is a necessary part of educating Arizona students to be critical thinkers prepared to work in an increasingly complex global society.

We oppose the passage of HB 2281 and are concerned about the ensuing attacks, misinformation and unfounded criticism of ethnic studies. We stand in solidarity with the Mexican American Studies (MAS) program in Tucson Unified School District (TUSD), which was dismantled under HB 2281 and is currently in a struggle to be restored. Teaching about the United States and American society traditionally has marginalized or distorted the experiences of Communities of Color and emphasized the actions and experiences of those in power in benevolent and heroic terms. Ethnic studies and programs such as MAS are about equality, not divisiveness; they seek to explore the complexity of power, inequality, and conflict between, as well as within, ethnic groups. We support ethnic studies in K-12 schools, university classrooms, and beyond.

To learn more about what constitutes Ethnic Studies, please see our document, "What is Ethnic Studies?"
Be sure to check out their Banned Books List as well.