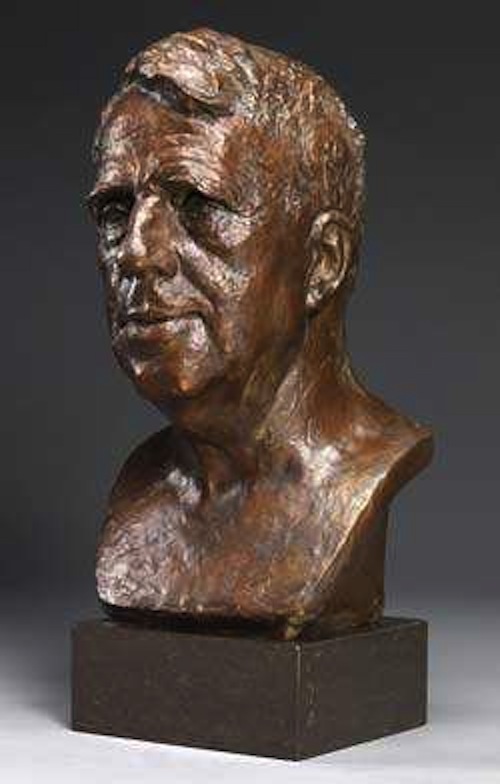 From The Wichita Eagle:
In 1987, a bronze bust of American poet Robert Frost was reported stolen from its perch in front of Wilner Auditorium on Wichita State University's campus.

Campus police searched, appealing for its return. Then the case went cold.

But a phone tip to WSU police in June finally led Missouri law enforcement Wednesday to a garage in Lamar, Mo. The bust – long forgotten by most – sat inside.

WSU officials on Thursday welcomed home Massachusetts sculptor Walker Hancock's "Bust of Robert Frost," 25 years after it disappeared. The bust remains an important piece of the campus' extensive outdoor sculpture collection, Jim Rhatigan said Thursday.

"It represents the only piece of sculpture stolen in the history of the campus," said Rhatigan, who was WSU's vice president of student affairs when the theft occurred. "… Some foolish person took it, and it's been 25 years."

The bust, acquired in 1983 with a grant from George and Virginia Ablah, is one of two sculptures of Frost by Hancock. The second is in Boston's Museum of Fine Arts.

On Wednesday, Missouri authorities arrested 44-year-old Mitchel R. Potter at his Lamar home on suspicion of receiving stolen property, according to a news release from the Missouri State Highway Patrol. Police think Potter, who is not thought to have any association with WSU, stole the bust 25 years ago while passing through Wichita, WSU police Detective Jeff Rider said.

"We're pretty confident that it's been in the same person's possession" since its disappearance, he said.
Full article here.