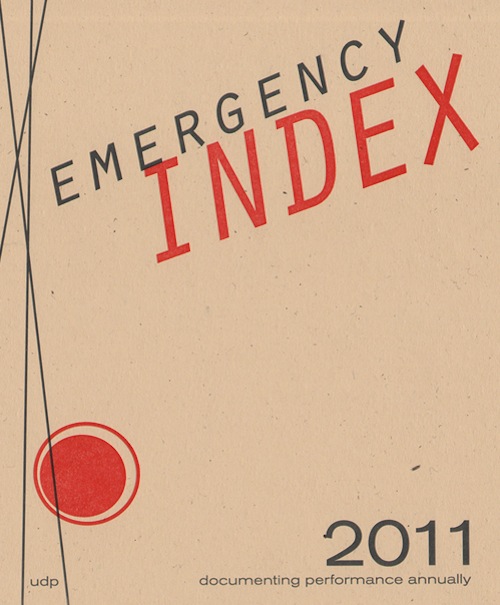 Another worthwhile campaign for the arts is upon us. This time, the performing arts! But this concerns all of us who might even think about performance: Ugly Duckling Presse is on the march to publish their second-annual volume of performance documentation, Emergency Index, which features contributions from poets, artists, playwrights, activists, theater companies, performers, scientists, and all other manner of creative grape. With indiegogo, UDP is aiming to reach $10,000 by Friday, September 21. As of this writing, they're a shade over halfway. And for whom might this be of interest, you ask?
Anyone who makes performance, who thinks or writes about performance, anyone who uses performance as a means to an end, anyone for whom performance matters, for whom it is a sticky point, a thorn, or an itch.

If you work in theater, in dance, in poetry, support this project. If you are an activist, a lobbyist, a maker of signs, support this project. If you are an academic, a theoretician, a lawyer, a translator, support this project. If you are someone who loves a person who has dedicated the best years of their life to performance, support this project.
More about the project:
Emergency Index is...

INDEX empowers artists to steer their own documentation, it flips the bird to those who say performance cannot or should not be documented, it presents an inclusive, complex, and thought-provoking picture of what performance is and can be right now, and it places performance work in a broader context of time, language, and genre.

The performances in INDEX are described in the words of their creators, not by critics, audiences, or institutions. Inspired by the "Artist's Chronicle" of High Performance magazine, INDEX does not curate the performances; inclusion is open to all who consider performance as a primary part of their work.

Every year, we will publish an amazing compendium of international performance: dance, theater, music, poetry, political activism, advertising, therapy, terrorism, and more. Through a chronological compilation of short descriptions, images, and a rigorous back-of-the-book index, these 500+ pages reveal an unprecedented view of an emergent field.

What we need

INDEX is not a one-off; it is a long term archival project, meant to span at least a decade. Though we have already published the first volume earlier this year, we need to raise $10,000 to finish paying for the first volume (Emergency Index 2011), and provide seed money for next year's edition (Emergency Index 2012).

All the editors and contributors to INDEX donate their labor, because they believe this project is crucial. There is no donation too small. We need your help.
Help out here. While you're at it, check out the video made by Vanessa Place to encourage donations.
We should also point you toward the indexical light:
The Language Connection

Of course, describing a performance in language is problematic, even though the goal of the description is not to replicate the experience of the performance or to offer a consumer review, but rather to document its operational tactics. Language, constructed by and transmitting its own rules of materiality, grammar, histories, culture, and convention, has a complicated relationship to the performance it describes.

Emergency INDEX acknowledges the semi-autonomous materiality of language, and attempts to reap its benefits, by indexing the language used by creators of performance works. The back-of-the-book index will contain keywords from every performance description, and refer readers to the page numbers of the descriptions relevant to their search.

This indexing allows for creators to find like-minded practitioners; it creates connections between performance works that may not be obviously or typically related to one another; and it surveys a network of discourse that may change as years pass.
If you're a like-minded practitioner, and interested in contributing, go here. Up top: the cover of last year's compendium, still purchasable.