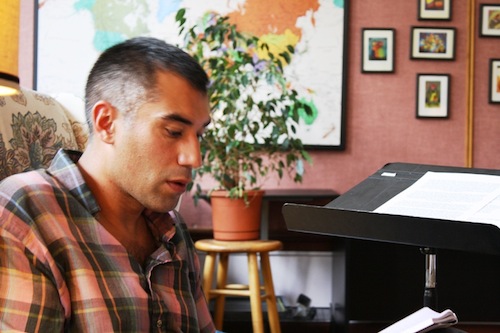 The Volta is having Cedar Sigo Take Down the Clouds with this intimate interview. Here's what Sigo has to say about what he's currently working on:
Yesterday morning I took the (still) working parts of an older poem and used these to expand a brand new piece. That process seemed very dependent on returning to the construction every few hours to see (and read through it) all over again. It needs time to rest and harden and heal between procedures. I also recently printed out all of the poetry I have written since Stranger In Town. There were around 35 pages. It may be time to gather some of this into a chapbook. There is still quite a bit of variety as to the styles employed , but the poems feel more relaxed inside. The first book may have been me sober and this one me slightly drunk. You write enough poems for a book, then you write enough books to make a whole world. The grandeur and delusion of poetry gets worked in like this, Poetry is then felt as element at play in the world at large, not one trapped by the actual mechanics or instance of writing (craning your neck) those are the pathways being set and cleared away and always available, thanks to escaping completely inside of language. The work of the poet seems to cleanse the blood of all the arts and concurrently our existence is becoming harder and harder to even imagine. When I looked through the pages I have printed out, they seem to sit well next to each other regardless of the order. Next I'm going to print out all the essays, art criticism and blogging I've done in the past few years and see how that reads.
Jump over to see what Mr. Sigo is reading these days, what his writing room looks like, and what journals he likes.