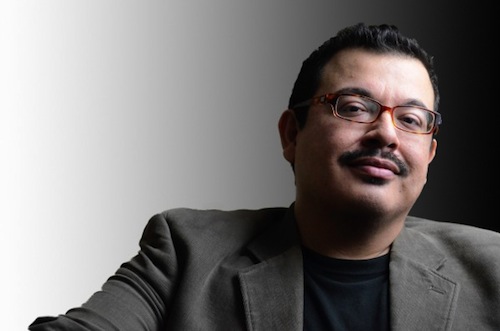 City Lights gives Eduardo Corral some love in this Celebrating Latin@ History post.
They write:
City Lights was tipped off to this emerging poet by a New York Times interview with Junot Díaz. When asked what was the last book that made you cry, Díaz wrote: "That's easy: the winner of the Yale Younger Poets prize, Eduardo Corral's collection, "Slow Lightning." When I finished that book I bawled. Wise and immense, but peep for yourself: "Once a man offered me his heart and I said no. Not because I didn't love him. Not because he was a beast or white — I couldn't love him. Do you understand? In bed while we slept, our bodies inches apart, the dark between our flesh a wick. It was burning down. And he couldn't feel it." "

———————

Eduardo C. Corral is the 2011 recipient of the Yale Series of Younger Poets award, joining such distinguished previous winners as Adrienne Rich, W. S. Merwin, and John Ashbery. Corral is the first Latino poet to win the competition.

Seamlessly braiding English and Spanish, Corral's poems hurtle across literary and linguistic borders toward a lyricism that slows down experience. He employs a range of forms and phrasing, bringing the vivid particulars of his experiences as a Chicano and gay man to the page. Although Corral's topics are decidedly sobering, contest judge Carl Phillips observes, "one of the more surprising possibilities offered in these poems is joy."
Head over to watch a video!