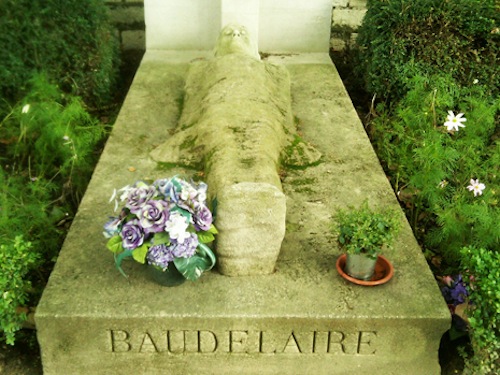 Poet Henri Cole is blogging from Paris for The New Yorker's Page Turner. Noting that he's renamed his rue the Street of the Iron Poet, Cole considers being a first-generation American with a French mother in the Fifth Arondissement, which is heavy with book traffic: "Six of my poems were recently translated into Catalan, a language that a half-century of Fascism couldn't stamp out. Is American poetry as durable, I wonder?" His meanderings are on foot and in writing:
Today I visited the cenotaph to Baudelaire, who sleeps at the center of Paris—in the shade of maples, ash, laurels, and conifers—at the Montparnasse Cemetery. I think I would like to be more Baudelairean, which is to say unafraid of the grim. Also less melodic. In a letter to Robert Lowell, Elizabeth Bishop speaks of how a single word can have enormous power in a line of poetry and she uses the example of Baudelaire's "The Balcony": Les soirs illuminés par l'ardeur du charbon—or "Evenings lit up by burning coals." It is the "coals" that surprise the reader and illuminate understanding. Poetry is language that doesn't shut us out; it gives the opposite experience.

At the end of his life, Baudelaire smoked opium and drank to excess, suffering a stroke followed by paralysis and aphasia. He died with considerable debt, which his mother paid off. His poems explored the changing nature of beauty in industrialized Paris. His "Flowers of Evil" (1857) is the swan song to Romanticism. When it appeared, the government brought action against him as an offender of public morals. In Bishop's poem "The Bight," he appears in a description of low tide: "One can smell it turning to gas; if one were Baudelaire / one could probably hear it turning to marimba music." She is referring to Baudelaire's ideas relating color to sound. But also, her discovery of something gallant amid the horrifying (the dredge, the boats with gaffs and hooks, the birds like scissors and pickaxes, etc.) is the Baudelairean touch, the "awful but cheerful" (Bishop).

The monument presents Baudelaire swathed like a mummy with his head bare, on a slab a few inches above the ground. When I was there, the sky was gloomy and a bat flew over my head. I left a small bunch of flowers from a pilgrim. I didn't hear any marimba music, or even a solemn oboe. Instead, I felt unease, and read a poem called "Obsession": "I see the black, the empty, and the bare!"
Cole's essay continues around Bishop, her metaphysical poem "Quai d'Orléans," set on the Seine, and her non-return to Paris. Please find it all here.