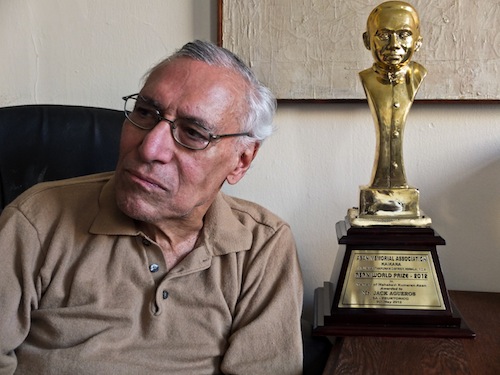 From NY Times:
In 1996, Jack Agüeros, a Puerto Rican author and activist who wrote sonnets about the immigrant poor and Latino street life, would have seemed an unlikely candidate for inclusion in the library of New York City's most prestigious university.

That year, his son, Marcel Agüeros, was one of four Columbia students who staged a hunger strike in front of Butler Library to demand the creation of an ethnic studies program, becoming something of a poster child for the fraught relationship between Columbia — famous for its Western classics-based curriculum — and the diverse communities that surround its Morningside Heights campus.

Yet times have changed: the ethnic studies program Marcel Agüeros fought to establish, the Center for the Study of Race and Ethnicity, is in its 13th year, and he is now an assistant professor of astronomy at Columbia. His father, who has been suffering from Alzheimer's disease for nearly 10 years, has all but forgotten a career that included four books of poetry, an eight-year stint as director of El Museo del Barrio in East Harlem and a hunger strike that protested the lack of Puerto Ricans in Mayor John V. Lindsay's government. And later this year, the elder Mr. Agüeros's personal papers will be unveiled at Columbia as the first piece of a new archive of significant New York Latino figures.

"How do I say this diplomatically?" Marcel Agüeros said. "I think Columbia could do better in terms of its relationships with the surrounding communities, and incorporating my father's papers here at the library was a way of connecting the institution with East Harlem in a way that was appealing to us."
Full article here.