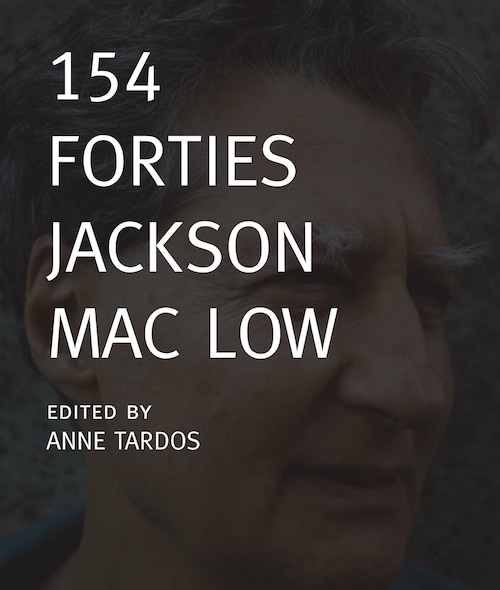 Wow. FIRST, the news that Counterpath Press is publishing the first complete edition of Jackson Mac Low's "Forties" poems, in a book called 154 Forties, edited by Anne Tardos. "The book publication is being accompanied by an ebook project that will include scans of the original handwritten manuscript of the Forties as well as videoed readings of each of the poems by 154 artists and writers in the US and abroad, many of whom knew Mac Low. The videos are being posted to the web as they come in, here." Collaborators with videos to come include Lisa Robertson, Juliana Spahr, Barrett Watten, Sommer Browning, Joan Retallack, Julie Carr, Bob Holman, Tan Lin, Stacy Szymaszek, Jen Hofer, Kenny Goldsmith, Abigail Child, Anne Waldman, Charles Bernstein and, well, a lot of other amazing people.
THEN there is the news that performer and choreographer Clarinda Mac Low, Mac Low's daughter and Tardos's step-daughter, is performing each of the poems over three nights at Danspace Project in New York, as part of PLATFORM 2012: Judson Now, a series that "presents work by Judson-era artists reflecting their current artistic interests and includes artists who influenced Judson pre-1962 and contemporary artists who claim Judson as a direct point of reference." We should also note, while we're on it, and because we're fans of performance gone printed matter, that "Danspace Project will publish a catalogue co-edited by Jenn Joy and Judy Hussie-Taylor featuring archival and contemporary images, interviews, and essays." The Mac Low event looks amazing:
Performance and installation artist, and co-director of cross-disciplinary organization Culture Push, Clarinda Mac Low presents a unique recreation of a child's-eye view of the 1970s New York avant garde art world, investigating how community is formed through art-making.

Mac Low brings together a large, eclectic group of friends and colleagues to construct a series of performances based on The Pronouns: A Collection of 40 Dances for the Dancers (1964), a book of performance instruction poems written by her father, the poet/composer/multi-media artist, Jackson Mac Low (1922-2004), in celebration of what would have been his 90th birthday. All 40 poems will be performed over the course of three nights. Each night is different.

[...] With a special guest appearance by Simone Forti (with Nuclei for Simone Forti) performing the original instruction poems from 1961 that eventually developed into The Pronouns.

Mac Low has been meeting one on one with each of her collaborators. Prior to the performance, the audience is invited to meet one on one with Mac Low, by appointment. Make an appointment at clarindamaclow.com/one on-one.
Here's the Facebook event page for that. ALSO, on September 12, is a reading co-organized by The Poetry Project and Danspace, to celebrate the upcoming book and Mac Low's birthday:
Danspace Project, in partnership with The Poetry Project, present a birthday celebration and book party for Jackson Mac Low, poet, Fluxus artist, and advocate for nonviolence, who would have turned 90 on September 12, 2012.

In recognition of the release of his seminal work, 154 FORTIES, edited by Anne Tardos, (Counterpath Press, 2012), Danspace Project and The Poetry Project will host a reading from this collection, followed by a reception.

Readers include Bruce Andrews, Rachel Blau DuPlessis, Abigail Child, Kenneth Goldsmith, Mitch Highfill, Bob Holman, Tim Roberts, James Sherry, Anne Tardos, and Anne Waldman.
AND you can read one of the poems from Mac Low's 154 Forties, "#154
FINDING YOUR OWN NAME," here, just posted at Poems & Poetics by Jerome Rothenberg. ALSO! Rothenberg has included the forward to 154 Forties, by Anne Tardos, which will give you some insight should this be your first coming-across of these pieces. An excerpt:
The Foreword to 154 Forties by Anne Tardos

I remember asking Jackson, why 154 Forties? Why that number? Why not another? He never gave me a clear answer. Only after his death, while editing Thing of Beauty, did it dawn on me that he might have been referring to Shakespeare's sonnets, which also number 154. Such a reference would indeed have to have been couched, if that's what he was doing. And the more I think about the Forties' format, the number of lines, long ones and short ones, the more I believe my hunch to be correct.

Mac Low wrote the 154 Forties over a period of ten years. He began writing them in 1990, and finished writing the first drafts in 1995, although he continued revising them until 2001. He wrote the first drafts into a notebook. The poems incorporated everything he saw and heard and thought of at the time. When in Europe, he freely included words from languages other than English. (In the few multilingual Forties, he included elements and notational methods from some of my own multilingual poems.) I remember Jackson writing during poetry readings, music and dance concerts, in cars, planes, trains, and boats. The poems' end notes document the exact time and place of each poem and subsequent revision(s).

Back home, at his computer, he would type up what he had written. In his "Notes to 154 Forties" (below), he describes the prosodic devices he used to indicate reading tempo, stress, and dynamics. Jackson was, after all, a performance poet.

Many of the Forties have appeared in magazines and anthologies. Zasterle Press in the Canary Islands, published 20 Forties, in 1999. A selection of four poems was translated into French, by the translation collective in Royaumont, and published in 2001 by Un bureau sur l'Atlantique as Les Quarantains (Extraits). This is the first time the Forties are collected in their entirety.

The Forties stand as Mac Low's most important achievement. His encyclopedic knowledge, humor, and boundless imagination, are abundant in these poems. Who can resist a "perpendicular tofu cancellation" or "J. Edgar Hoover Blackmailed Transformational Linguistics," the title of Forties 126. Each title is composed of the first word(s) of the first stanza and the last word(s) of the last stanza. These titles are a poem within the poem. The musicality of a line like "Toffee clinic alcohol-cadenza lyricism strife megalópia tank" is clear....
No kidding. We're excited for all.