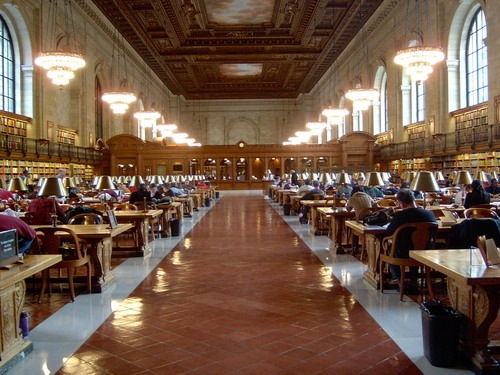 For those of you keeping up with the New York Public Library's millions-dollar overhaul, this just in from The New York Times:
Responding to objections raised by scholars, writers, artists and others, the New York Public Library has revised its plan to remove most of the books from its flagship Fifth Avenue research center to make room for a circulating library. Library officials said that an $8 million donation would help pay for enough new storage space to keep 3.3 million of its 4.5 volumes at the Stephen A. Schwarzman Building, at 42nd Street.

The change, approved by the library board on Wednesday, marks a significant shift in the Central Library Plan, a $300 million proposal to turn the historic building into the world's largest combined research and circulating library.

[...]

The gift, from Abby S. Milstein, a lawyer and trustee, and her husband, Howard P. Milstein, a banker, will cover the cost of building 30,000 square feet of storage space to keep 1.5 million books that would otherwise have been sent to a warehouse in New Jersey. Scholars and others have protested plans to send the books away, arguing that research would be inhibited by the inevitable resulting delays in retrieving books, and that the changes would diminish the library's role as a leading reference center.

"This is a great outcome," Anthony W. Marx, the library's president, said in an interview. "We're investing in good old-fashioned books for research, but we're also working to ensure digital access and provide more education programs in branches."

Under the plan two Midtown library locations will be merged into the Schwarzman Building: the Mid-Manhattan Library, the system's largest circulating library, and the Science, Industry and Business Library, where the use of print materials is decreasing because of digitization. The library expects the project to save $15 million annually in operating costs.

Some critics said Wednesday that the expansion of book storage at 42nd Street does not address their concerns that the building be used for lending as well as research.

"This doesn't respond almost at all to the fundamental critique of the Central Library Plan as it still exists," said Stanley N. Katz, a professor at the Woodrow Wilson School of Public and International Affairs at Princeton, who also serves on the library's advisory panel....
Read the full article.