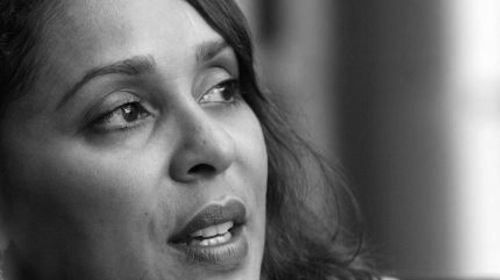 Last night, Natasha Trethewey, Poet Laureate of the United States, gave her inaugural reading at the Library of Congress in Washington D.C. If you missed it, Slate posted a nice recap of the reading this morning.
Trethewey emerged from a magical-seeming contraption that slid open at the back of the auditorium. (The librarian of Congress, Dr. James Billington, just walked on stage from the wing.) She wore a conservative black dress and smiled a lot. When she began to speak, her voice, like that of the beautiful companion in "Adam's Curse," was sweet and low. Also like that woman, she was preoccupied by the costs of loveliness—the gemmed portraits of mixed-race families in a Mexican taxonomy book, the siren song of a father's affection. (Trethewey feared that her white dad loved his half-black daughter primarily because he felt he "made [her] better.") "Always there is something more to know," she recited, before laying out a critique of the quest for limitless knowledge and control...
Additionally, The Washington Post published a review of Trethewey's book, Thrall, praising the poet for "[doing] a wonderful job of shifting from a personal perspective to a global view and back. She subtly challenges readers to confront their own attitudes about race, which so often go unexpressed and unexamined."