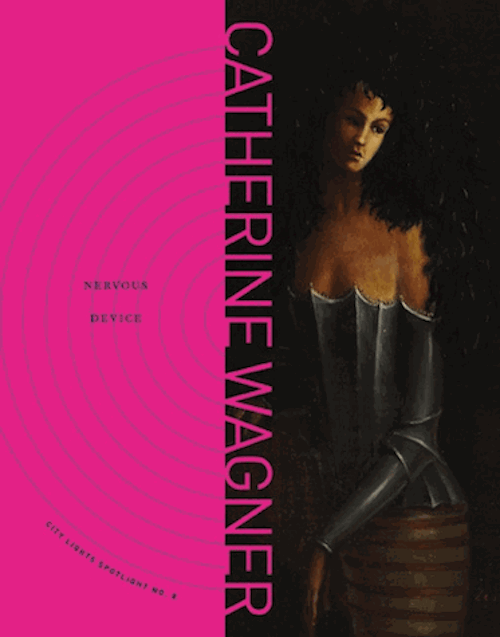 Oh, we are so excited. Publishers Weekly has taken a liking to Catherine Wagner's newest book, Nervous Device, which is out in October from City Lights Spotlight series, edited by Garrett Caples. PW writes:
Wagner's fourth collection contains poems of memory and dark artifice. She writes with an obscure, magnetic lens. Wagner's longer poems are willfully disorienting: "A Well Is a Mine: A Good Belongs to Me" consists almost entirely of lines encased in quotation marks that confront slavery and invent equations: "Freedom × Need = Reality." Wagner contrasts these complicated poems with short, clean, pieces that offer a kind of breathing space for the reader. Not to be mistaken for trivial, the linguistic tightness of these poems are highlights of Wagner's collection. "Ta" describes a drowning television: "o'er and o'er/ let it stink way down/ and coral grew there./ Covered it oar./ Let miserere deep./ Be mine for'air." The poems delve into and self-consciously warp body, sex, and language. "Unclang" explores writing poetry: "it takes experience to write a real poem that is well-lit," Wagner argues. Later in the same poem we are blindsided by the haunting statement that "writing a poem is like reaching two prosthetic limbs out as far as you can on either side to grab something in front of you. You can't grab it but maybe you'll take flight."
To read the first two poems from the book and the table of contents, go here now.