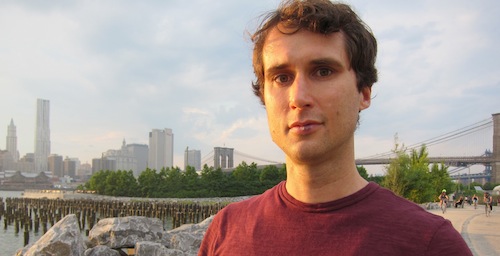 The New York Times has caught on to our favorite walker, Jon Cotner, whose current public project, presented by Elastic City, is called Island Night. An iteration of what Jon calls his interest in practicing "mobile poetics," Island Night "holds" eight people in its Fire Island embrace:
Part philosophic dialogue, part poetic reverie, part nature walk, Island Night is an extended meditation on the present – that fleeting moment occurring once-and-one-time-only in time's vast history. Perceptions will grow sharper. Time will be slowed down. Together the group will form a nomadic society which values improvisation, storytelling, and silence. Island Night is a moveable feast that doesn't exclude darkness. Rather, darkness is its starry medium.
Oh my! The Times' Jennifer Schuessler actually went on the 12-hour, 8-mile walk. "I think these practices have largely vanished in our digital era,' Mr. Cotner explained in a prewalk conversation, adding, 'There's far too much sitting. It's killing us as a species.'" Schuessler writes:
To me it seemed like a chance to squeeze in a final summer beach weekend under the cover of intellectual self-improvement without having to pay Fire Island's steep hotel bills. To Jon Cotner, the evening's leader and a poet who teaches at the Pratt Institute in Brooklyn, it was part of a mission to revive what he calls "the ancient and endangered practices of walking and talking" — to something other than a cellphone, that is.

"I think these practices have largely vanished in our digital era," he explained in a prewalk conversation, adding: "There's far too much sitting. It's killing us as a species."

On Fire Island Mr. Cotner was kitted out in sensible gray Mephisto walking shoes; walking itself, though, has been getting something of a hipster makeover in recent years. Since 2010 Elastic City has offered some 50 interactive walks, ranging from "Total Detroit," a three-day exploration of that city, to "Off Center," a roving participatory dance tour of Lincoln Center to be repeated several times in late September.

On Sept. 14 the Walk Exchange, another Brooklyn-based group, will offer "Everything That Dies Some Day Comes Back," a walk on the boardwalk in Long Branch, N.J., featuring a mobile sandbox and the symbolic burial of Bruce Springsteen-inspired "memory maps." The group, in conjunction with Flux Factory, also plans to repeat "Long Walks on the Beach," an event recently held at Far Rockaway, Queens, that paired random strangers for exactly that.

A similar forced sociability, but with a clearer conversational agenda, was the order of the night on Fire Island. Over a sleepless 12 hours, we would wander across the beaches, footpaths and boardwalks, sampling the night life of the distinct communities while discussing the often unexamined habits that structure our own city days.

From the outset it was clear that this was not going to be an ordinary late-night dorm-room bull session en plein air. While some walkers picked up last-minute provisions, Mr. Cotner tested some material from "Spontaneous Society," a previous Elastic City project in which participants engaged random passers-by in Manhattan with lines shown to be, as he puts it, "99 percent effective in terms of replacing urban anonymity with affection."
It seems things got real, with a member of the group even commenting near the end of the trek that "this would not be as fun with your eight best friends" and the Times writer asking herself: "Was it very early in the morning or still just very late at night?" There was plenty to discuss in the meanwhiles:
After a break for pizza and coffee, we walked through an undeveloped area called the Sunken Forest, covering questions about reading habits, Facebook use, exercise routines and whether we spent enough time talking (and walking) with friends. Back on the beach, Mr. Cotner read a fragment by the ancient Greek poet Sappho about a sleepless night alone, prompting reflections on romances gone bad. A short poem by the eighth-century Japanese poet Akahito — "When I went out in the spring meadows to gather violets, I enjoyed myself so much I stayed out all night" — led to reminiscences of nocturnal rambles in Brooklyn, the Aran Islands and the New Mexican desert.
Read it all here. And if you're interested in pursuing your temporality with Cotner, some strangers, and some ancient Greek and Asian poets (Jon tells us that those represented include Sappho, Pythagoras, Diogenes, Hippocrates, Akahito, Basho [as noted], and Issa), walks start at 6:00 p.m. at 1 Harbor Park, Fire Isle Pines, NY, and conclude at 6:00 a.m. Reserve a space for yourself here.
Also! Cotner will be leading walks for Harvard during this year's AWP, and Poetry Society of America walks during National Poetry Month. You can stay in touch here for information.