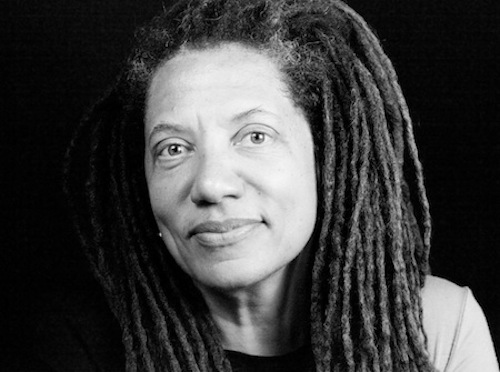 Nikky Finney, recent National Book Award winner, took part in this interview over at the NEA blog.
Here's a sample. Make the jump to read the full interview:
NEA: What do you remember as your earliest experience of an engagement with the arts?

FINNEY: I'm sure there was an earlier experience because my mom believed in Art as vitamin, medicine, and elixir, but the particular experience that propelled me up and through the hot summertime air: I was 15 and a troupe of traveling Broadway actors came to my tiny southern town. The play was Lorraine Hansberry's To Be Young Gifted and Black. The entire town had bought tickets and filled the auditorium of our small, historically black Morris College. People were sitting two to a chair. Babies were whining. Fans were turning. Fathers and other manly men hung out by the door. I was sitting up in a high windowsill. I had never seen our entire town at anything but basketball and football games, but on this night everyone knew the significance of these brilliant actors coming to OUR little place on the planet. Two lines from the play that lit the fuse of writing in me:" I am a writer I am going to write" and "A classical people demand a classical art." I'll never forget the moment. The dIe was cast.

NEA: In your National Book Award acceptance speech you said that being a poet "was the only life you ever wanted." How did you come to poetry? And how did you come to know that it was indeed the life you were raised for?

FINNEY: Sometimes a child is born into a perfect lightning storm and somebody who loves her offers her a pencil as oar. That's what happened to me. What a magical wand and oar a pencil is. It is one part tool and three parts pontoon. If that child can make her way through the first flashes of lightning without too much fear of being hit, if she can be overtly curious about the lightning, if she can see the lightning as more than worry and trouble, if she can even find out later that lightning is no bigger than a pencil (the Weather Channel), then she might get very close to being who she has come to earth to be.

I was born at a time when lightning and storms seemed to be flashing and raging everywhere in the world; Vietnam, Civil Rights, Women's Rights, Gay Rights, Environmental Rights. Human beings marching around the planet with their mouths open—in one long dedicated scream. I was a child who found herself noticing everything around her and saving everything she could—in little cloth bags, in cigar boxes, under the house steps, and in tiny notebooks with cats and dolphins printed on the front. I found myself wanting to participate in my own way. I found myself taking notes on the world I lived in. I liked my job then as a 15-year-old. I still like my job. I still find myself taking notes on the world and looking for the sapphire notes in between the lightning and the ground.