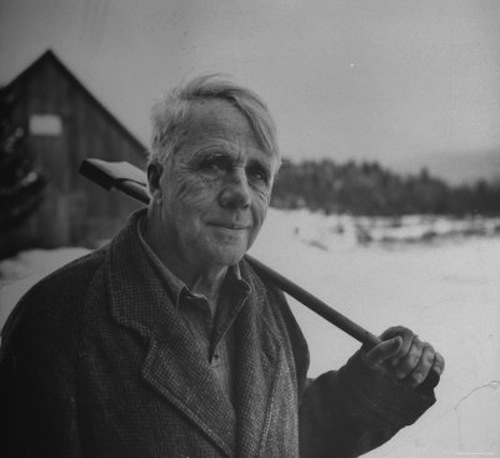 Andrew Burmon wrote this HuffPo piece, with photos, about a trip he took to Robert Frost's home in Vermont.
He writes:
Come to Vermont, Frost seems to say. We'll all do nothing together.

The invitation is awfully appealing, especially in fall when the light filters through yellow leaves, turning the forest sepia. Route 7A, which runs past the old stone house, is full of leaf peepers, who have come north on their own time and at their own expense to watch nature do what nature does. They buy Entenmann's cakes and hot, black coffee at the town's rickety general store and apologize for paying with credit cards; not because the lady behind the counter minds but because they seem incongruous.

The rusted hinges on the front door whine because of course they do.

The inside of Frost's home, in keeping with this rustic vibe, doesn't impose any flashy multimedia presentations on visitors. Poetry is tacked to the walls, and the highlight of the exhibits may be seeing the fireplace Frost rocked by on inclement evenings. Poeting is not an equipment-heavy pursuit, so there isn't much to look at outside of the bent glass in the front windows. The staircase, which is off-limits, climbs to a white-washed second floor suffused with light.

That the famed volume Frost wrote here was titled "New Hampshire" seems to indicate that the details of this place are less important than its generalities. Fair enough. It is hard, after all, to observe nature's specifics; trespassers watch snow fall without counting the flakes.

Still, the details are relevant. The tree in his front yard is healthy and wide. A path leads into the woods behind the house. There is nothing profound to be said about these things, but there they are.
Full article, plus slideshow, here.