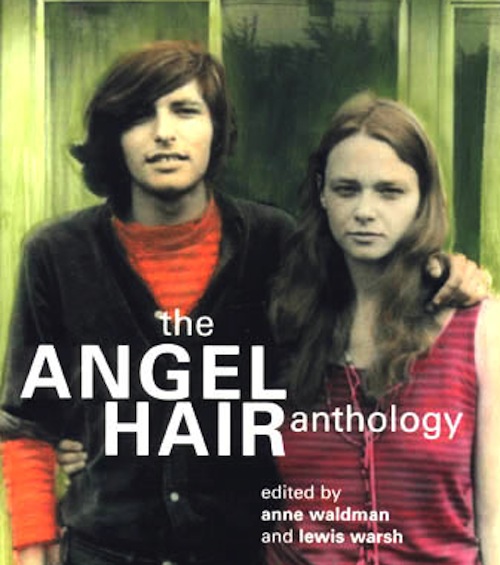 Here's something worth revisiting: A sampling from the Angel Hair Anthology, courtesy of Jacket(2). Granary Books published this tome encapsulating the magazine and books published by poets and editors Anne Waldman and Lewis Warsh between 1966 and 1978. If you don't have time right now to get through the 630 page anthology in its entirety (but you should at some point!), here's a taste of what you're missing:
Introduction — Anne Waldman
Introduction — Lewis Warsh
Jack Anderson, American Flag
John Ashbery, The Hod Carrier
Bill Bathurst, To Marthe
Bill Berkson, Sheer Strips
Ted Berrigan, from To Clear the Range
Ted Berrigan, Two prose poems
Ted Berrigan, For You
Clark Coolidge, 'though in should'
Edwin Denby, 'Out of Bronx subway...'
Robert Duncan, At the Poetry Conference: Berkeley / After the New York Style
Kenward Elmslie, Feathered Dancers
Larry Fagin, Little Hand
Mary Ferrari, Eternity
Barbara Guest, Homage
Dick Gallup, Guard Duty
Lee Harwood, The Seaside
Allan Kaplan, Hey
Denise Levertov, Eros
Frank O'Hara, Two poems: 'A Raspberry Sweater', and 'To John Ashbery'
Tony Towle, Poem ('The lead drains...')
Anne Waldman, The De Carlo Lots
Lewis Warsh, Inside Long Treks
Philip Whalen, Coming Forth by Day
Make the jump to read more, including the entire 2002 issue of Jacket.