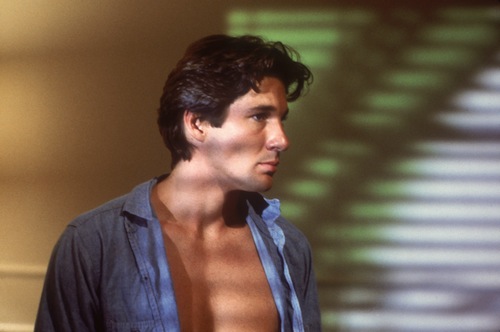 The most current iteration of Coldfront's feature "Poets Off Poetry" has got Jon Leon writing on none other than the old wiseman's tale, American Gigolo, which stars a young, hunky Richard Gere, that being news of course only if you have not managed to feast on the masterwork yourself. Leon writes: "As the poet William Blake notes, 'The road of excess leads to the palace of wisdom.'" He elucidates much of the history behind the film:
Driven to seek out the film for its distinctive style, transcendent motif, and its Los Angeles setting, I discovered a VHS copy of American Gigolo at about the time I began writing "Hit Wave," a 17-page epic story around which my book The Malady of the Century pivots. This was likely 2006-2007, while I was living in Savannah and shortly after I began to systematically read all of Bret Easton Ellis' novels beginning with Less Than Zero. Although the representation of Los Angeles, its subcultures, dominant culture, sunsets, and boulevards, were already haunting my thoughts as far back as 2004, heavily influencing my book The Hot Tub (2010), I had never visited the city of angels. I still had seven solid years of fantasizing to do before I'd wake up in a crumbling studio apartment in MacArthur Park and really feel the fear of God for the first time; and nine years before I'd get so animated at Hollywood soirées that it was like I was asleep dreaming. Repeated viewings of Gigolo and all of the wistful California daydreaming still weren't enough to prepare me for the most basic of LA truths as penned by Eve Babitz, the city's most iconic and quintessential author, "In Los Angeles it's hard to tell if you're dealing with the real true illusion or the false one."

Taxi Driver (1976), written by Paul Schrader and directed by Martin Scorsese, is the first installment in Schrader's "night workers" trilogy. I honor the themes in this set of films in my own writing, particularly in my story "Kasmir," by referring to the "night workers vestibule." American Gigolo, the second film in this trilogy, is built around the psychography of Robert Bresson's Pickpocket (1959). One will notice the same existential solipsism in Julian Kaye that is present in Michel, the pickpocket. Light Sleeper (1992), about a lonely New York City coke dealer, is the final installment in Schrader's "night workers" trilogy. Roger Ebert remarks on Light Sleeper, "This movie isn't about plot; it's about a style of life, and the difficulty of preserving self-respect and playing fair when your income depends on selling people stuff that will make them hate you."
And there is some classic Jon Leon thinking:
...Although Ebert's remark concerns Light Sleeper it's also a valid description of American Gigolo, especially the idea of "selling people stuff that will make them hate you." For Julian Kaye that stuff is sexual competency. One can feel the palpable discontent of the other male characters in the film. They all want him to disappear or go to prison, while their wives all want to fuck him. We learn from American Gigolo that becoming an expert at giving pleasure results from an impulse to compete and thrive. Sexual skill can become a powerful form of capital that opens doors to a style of life one never thought could be attainable. While it is honorable to seek sexual fulfillment for its own sake one cannot discount the collateral implicit in this exchange. I don't think the sole message of American Gigolo is to get really good at sex so you can get a stereo, a convertible, and a pristine apartment; but if it were, considering the grace within Julian's application of jouissance, I don't think there is anything wrong with that message. Each of his encounters acquiesce to needing him. When one can make erotic pleasure their business they have destabilized the limitations of a hierarchized society. In the trailer for American Gigolo Julian Kaye speaks confidently into the camera, "You wanna be here, you wanna be with me." Because of his radiant sexuality Julian gains access to a rarefied social sphere. While we live in an economically embattled time American Gigolo explores the message that aspiring to please and delight women is not only spiritually transcendent but economically transcendent as well, and offers the assurance of ethics that doing good does lead to doing well. . . .
Read the full piece, avec atmospheric stills, here. Image courtesy of Coldfront: 2001 by Paramount Pictures. All Rights Reserved.