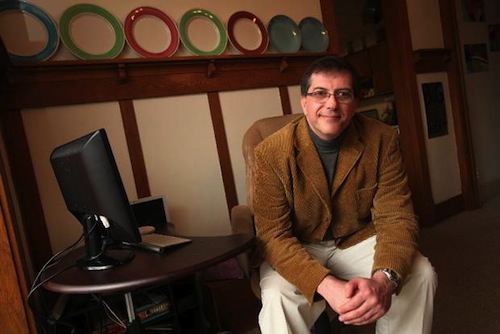 Buffalo is known for its vibrant poetry scene, which comes from equal parts great poetry and strong community. The Buffalo News reports that Geoffrey Gatza, publisher of BlazeVOX Books, has been feeding both sides Buffalo's literary life. Literally. He's making dinner for them!
It clicked for Gatza in 2009. Michael Kelleher, who was then director of Just Buffalo Literary Center, asked if he would cook for a literary event. The budget for ingredients wouldn't be much – about $100 – but maybe Gatza could see how far that would go in sating 75 to 100 people.
The idea, Gatza said, was to "change up the idea of a poetry reading, so you'd get more than just your die-hard poetry fans."
Gatza quickly warmed to the culinary challenge, and the Just Buffalo Big Night series was born. In 25 events since, Just Buffalo has welcomed participants to an evening of "poetry, food, music, visual art, film, video and whatever else we can think of," as Kelleher put it.
At $5 for admission, it's one of the classiest meals, dollar-for-dollar, in the Nickel City.
How does Gatza do it? Make the jump to find out, and then check out a few tasty recipes from Chef Gatza.