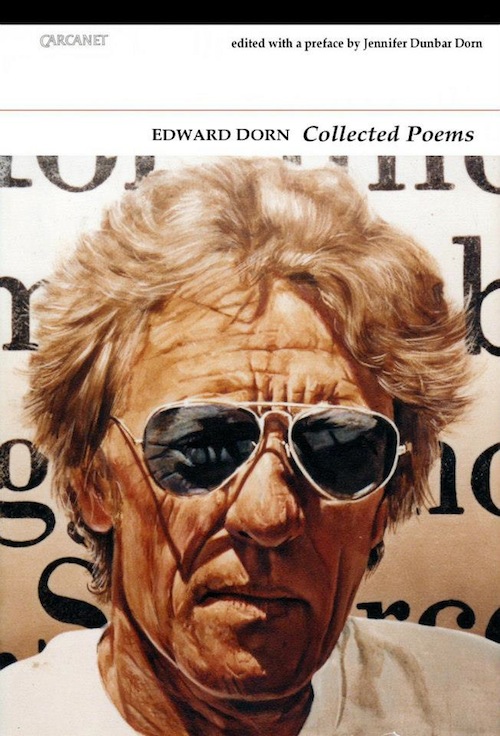 Did you hear about the forthcoming Ed Dorn Collected Poems? Edited by, and with a preface from, Jennifer Dunbar Dorn, with Justin Katko, Reitha Pattison and Kyle Waugh? AND afterwords by AMIRI BARAKA AND JEREMY PRYNNE? Well, we are here to help you hear about it. Or read about it, rather. From Carcanet Press:
For the first time the vast, experimental totality of Gunslinger poet Edward Dorn's work is collected in a single volume. After studying with Charles Olson at Black Mountain College, Dorn took on the American West, developing an unmistakeable voice, 'as evocative as a lonesome train whistle in the night'. Olson praised his 'Shakespearean ear for syllables'.

Taking his bearings from Pound and Williams, he found his own way, a pioneer in the old American way. "From near the beginning I have known my work to be theoretical in nature and poetic by virtue of its inher ent tone." Peter Ackroyd considers him 'the only plausible, political poet in America […] one of the masters of our contemporary language.' If Gunslinger is his major poem, the work that anticipates and surrounds it, wonderfully resourceful in tone and idiom, puts him on an equal footing with his masters.

'Ever since I was arrested for stealing a copy of Gunslinger I have paid very close attention to Edward Dorn's poetry...As a political satirist you can't bypass him, you have to go through him. His humour hooks in and hauls the laugh out of you.' --Tom Pickard
Here's a list of the contents, if you're checking your special collections. A special launch offer too! Enter the code IDAHO to purchase the book for £18...we're not sure how that works out whence shipped across the pond to you, but try it and see.