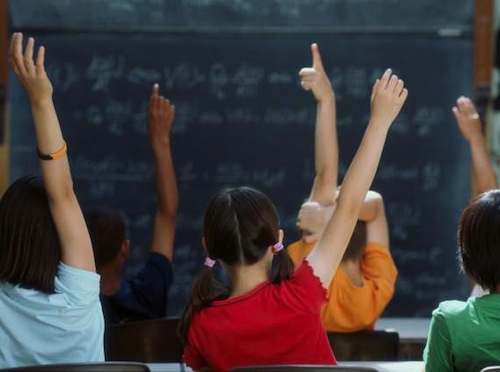 Check out this essay by Dorothea Lasky, "What Poetry Teaches Us About the Power of Persuasion," in The Atlantic, in which Lasky writes about the importance of teaching poetry to students early in their lives.
She writes:
A few years ago, I was working for a science teacher professional development program. My job was to go into schools and watch how high school science teachers were integrating the program's curriculum and content into their lessons. Not many people knew that I was a poet, not a science teacher. In fact, everyone around me asked me science questions. Like "What is the normal sugar level for someone with diabetes?" Or "Why do metals behave differently at different size scales?" These were not questions I could answer easily, but I did my best. I hid my poet self relatively well.

I didn't expect to find any poets there, but I did.

It first started when one student in one of the underperforming schools (a school with national test scores in the bottom 25 percent in its state) gave me a CD he'd recorded of himself reading his poems. I said thanks and asked him about it. He told me he was aspiring to be a hip hop star. I told him I loved hip hop, so he invited me to one of his performances. When I took the CD home and listened to it, I heard a stark and powerful poetry. His eloquence surprised me a bit, because the student never talked in class and was always late. It would have been hard to know he had this much language at his disposal, because he didn't use it in class.

All students can write, if we let them. The key, I think, is poetry.
Then, later,
Supporting poetry in our schools is essential because it engages students' thinking and it keeps language alive. Over the past 14 years, I have worked as a teacher in a variety of educational settings. I have found that all students can write. And one of the surest ways to awaken their love for language is poetry.

The 60 students waiting patiently to get into one creative writing section at an elite private college where I taught loved writing poetry. The 2 year olds I used to teach over a decade ago in a wealthy day care loved poetry, too. Even in their pre-writing state, they recited poem after poem for me, and I wrote each one down for them to then illustrate. At an underserved elementary school, I read Merwin, Sexton, and Whitman poems out loud, and the 5 year olds in in the class loved to bounce around the rhythms and the sing-songy rhymes, along with the slanted ones. It was the music of poetry that they loved. The music of poetry is a delight for the mind.
Great stuff. Full piece here.