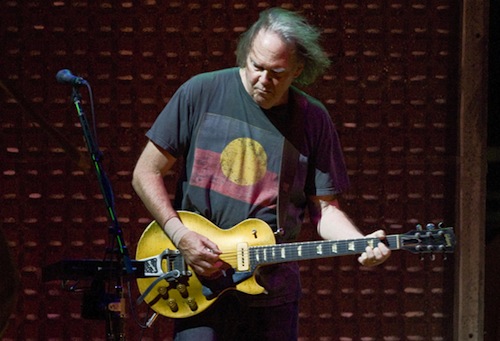 Brian Cullman wrote this piece for the Paris Review, where he muses on the poetry of Neil Young.
He begins:
There was a fascinating if incomplete musing on the New Yorker website this week regarding Neil Young's insularity and on the incomprehensible idea that he never reads. It seemed strange that someone who doesn't read would decide to write a book, though it's often true that writing and reading aren't necessarily two sides of the same coin. They are often very different coins, operating in very different currencies. When you go to a bank to make change, the exchange rate is never in your favor.

I forwarded the piece to my friend Bill Flicker, out in Los Angeles, who wrote back that he never listens to Neil Young's words, that they are simply placeholders or crumbs that are scattered on a walk through a musical forest. Actually, I do listen to his words. Not always. But when I listen, they're remarkably visual and evocative:

Blue blue windows behind the stars.
Yellow moon on the rise.
Purple words on a grey background
To be a woman and to be turned down

How did those windows get behind the stars? I don't know, but I can see them clearly. Sometimes as a child's drawing. Sometimes as a reflection on an airplane window. There may not be logic involved, but there is something deeper than that. As for those purple words, they shine against the grey background much as Matisse's goldfish shine through the water they swim in. I can see them clearly reflected on the surface of being turned down. Turned down like a bed, like a stereo, like a deal. A woman turned down. I can see that reflection even if I can't explain it. If I could, the song might not be as powerful as it is.
And there's more! Here.