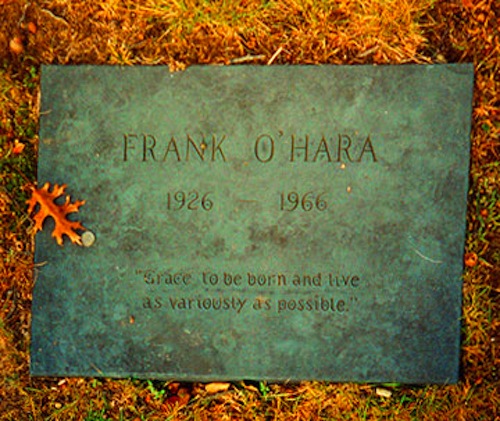 Oh right, it's Halloween! The Atlantic has a feature we think you might like: "How America Buries Its Famous Writers"! More:
Writers' graves can be surprising places to visit. Unlike the luminaries housed at more elegant cemeteries, like Pere Lachaise in Paris (Victor Hugo, Marcel Proust, Oscar Wilde, Gertrude Stein, Richard Wright), many literary stars lie for eternity in simpler, plainer spots around this country, with traditions around how to commemorate them as widely varied as the genres they comprise.

Some have touching or amusing epitaphs—Charles Bukowski's is "Don't try."
Sounds about right. But did you know:
e.e. cummings is buried in Forrest Hills cemetery in Boston on a hill overlooking a lake, beneath a tiny rock that you can barely find (even with a map, depending on how many leaves have fallen that day), just a short walk from Anne Sexton's larger, more noticeable tombstone.

Flannery O'Connor's Andalusia Farm grave in Milledgeville, Ga., receives tokens ranging from coins to plastic gorillas (a reference to her story "Wise Blood"). And Sylvia Plath's grave at one time (before the lettering was changed to bronze) saw fans returning again and again to scratch out the name of her philandering poet husband Ted Hughes.

[...]

The greatest and most famous mystery grave of all could be that of Edgar Allan Poe, who was found going out of his mind on Baltimore's streets in 1849 and died of either delirium tremens, heart disease, epilepsy, syphilis, cholera or rabies (all have been posited as theories). For more than 20 years, Poe lay in an unmarked grave, until he was moved to Charm City's Westminster Cemetery, on the southeast corner of Fayette and Greene Streets, in 1875.

"What's true is that he was buried in Baltimore very soon after he died, and that there was no marker originally; no proper stone," said Mark Redfield, who made a film called The Death of Poe in 2006 and produces events with the Poe House and Museum. "As Poe's fame grew after his death ... after the Civil War, a group of fans led the charge to build a proper monument to him."

A few years later, they also moved Virginia Clemm, Poe's wife, and Poe's aunt, Maria Clemm (yes, Poe married his cousin), to join him. "Of course, they had to disturb him again to reunite him with his family," said Redfield. "I'm sure he welcomed it."

The original plot where Poe was buried now has a marker of its own: That of a raven. And it is partially for the similarities between Poe's disquieting sense of the macabre and his own tragic demise and burial that draws thousands of visitors to the gravesite every year.

According to Redfield, visitors he comes in contact with are most fascinated with 'The Poe Toaster,' a mysterious figure who leaves three red roses and a half bottle of cognac at his grave every anniversary—a tradition begun in the 1940s when the Poe Society of Baltimore formed.
Read more about "The Real Dead Poets Society" here. We're surprised they missed O'Hara's (above; photo by August Kleinzahler).