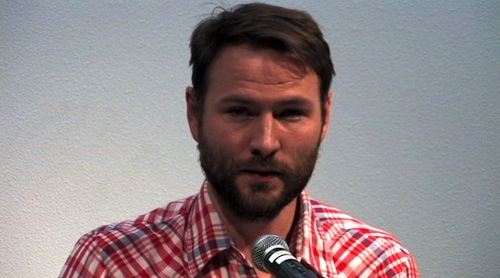 Drew Swenhaugen offers up yet another vital Small Press Beat over at Tin House. This time, he's in conversation with Joshua Marie Wilkinson who, when not writing his own books, editing anthologies, co-running a press, or making films, runs The Volta.
The entire conversation is great. Here's a little pinch:
DS: Do you think there is a void in today's poetry world in regards to poets taking critical approaches on poetics? Not necessarily in terms of a criticism movement, but do you feel something's missing today that you want to contribute to?

JMW: It occurred to me—perhaps listening to Elizabeth Willis or Tan Lin or John Yau talk on Charles Bernstein's radio programs—that we need to document ourselves. Nobody's going to come do that from the outside. Occasionally folks in the mainstream get interested in what Perloff calls Poetry Plus, you know, poetry plus fashion, or poetry plus Mad Men or whatever. But it's up to us to create a record of what we do and about what we do. I mean, we can wait til we're 85 and somebody comes knocking on our door from PBS or whatever, but what about right now? Looking back at the Eileen Myles and Tim Dlugos and Alice Notley Lost Public Access Poetry tapes (now on youtube) from the late 70s—they're priceless. Just the document as such—I guess that's part of what I'm interested in. But who wouldn't want to read Hoa Nguyen or Bhanu Kapil or Catherine Wagner or Cedar Sigo write about what they think about what they're doing. I love the poetics essay, the manifesto, the interview, the audio conversation—all that. I love seeing poets read on video and hearing their voices, you know, hearing Frank O'Hara say, "I have been to lots of parties / and acted perfectly disgraceful / but I never actually collapsed"! I could listen to that every morning. We're about to run this extended conversation between Maggie Nelson and Brian Blanchfield, and it's just wonderful to overhear these two writers, these two minds—old friends—talk at length about what the
Great stuff. Go read the rest.