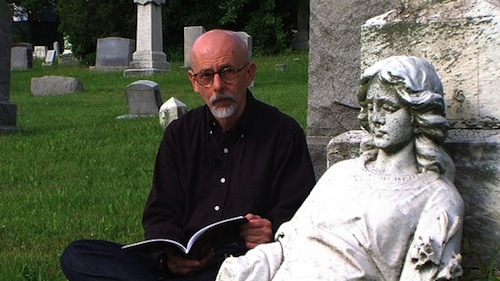 More upsetting news: The much-loved Baltimore poet and collage artist Chris Toll has passed away. Ron Silliman featured Toll on his blog a few days ago, including a video by Stephanie Barber of Toll reading at WORMS in Baltimore (also shown below); and HTMLGIANT's Adam Robinson has collected a handful of remembrances from Toll's friends in what New Lights Press founder Aaron Cohick calls on Facebook a "space-collage shrine." The shrine's got words from Melissa Broder, Buck Downs, Heather Christle, Mike Young, Sampson Starkweather, Adam Good, Dorothea Lasky, William Merricle (among others); and R. M. O'Brien, who had this to say:
Chris's importance to me as the model of a visionary poet and as an heretical saint cannot well be explained. I don't think I ever could have made it clear it to the man himself, let alone anyone else now that he's "gone." You either knew him and felt the same, or you knew him and felt your own particular way, or you didn't feel anything cuz you didn't know him.

Chris sent me an email late Tuesday night, the night before the day he "died." I had sent him proofs of his work as it would appear in an anthology I'm editing. To explain why he was sending yet more revisions to a poem and a piece of flash fiction he wrote,

i will explain this as best i can.

i know i'm nobody – i'm a snowflake and i'm drifting toward a bonfire – i know this well – i'm getting hot.

BUT

everything we do at every moment is critically important – every deed at every moment in every day should be a living prayer – if we pray hard enough, we will have a New World – and we will have it sooner rather than later.

"I'm a snowflake and I'm drifting toward a bonfire. I'm getting hot." I repeated this to myself as I wander'd around North Baltimore with Asher and my wife Melanie. It was a sustaining mantra, and a last gift from Chris. I think he knew I was sensitive and prone to emotional meltdowns and that poetry was stronger for me than religion in a crisis.

When people I love die, I worry about their last conscious thought. Was it a peaceful one? Was it fill'd with hangups, terror? Mercifully, Chris answered that anxiety: He was nobody. He was a snowflake. He melted in a bonfire.
A great loss for poetry. You can read more about and by Chris here, here, and here. Photo originally published at BOMB.
http://www.youtube.com/watch?v=oa8lCT9CP-0&feature=player_embedded