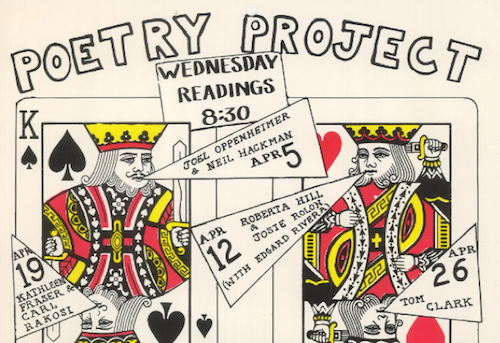 Good news for you literary history buffs: The Poetry Project Oral History Project is here! Whatzat? Well:
The Poetry Project Oral History Project is focused on obtaining interviews from past Poetry Project administrators, as well as with poets and writers who have been affiliated with The Poetry Project since it began in 1966. Our goal is to record and provide access to narratives pertaining to the history of The Poetry Project. We hope that the multiplicity of perspectives will provide a wide range of contexts for better understanding and interpreting the unique role The Poetry Project has played for the communities it has served since beginning in 1966. Interviews are recorded digitally and made available online through The Poetry Project website. Research for The Poetry Project Oral History began in the Fall of 2010, with the first interviews taking place in the Fall of 2011.The Poetry Project Oral History Project is an ongoing project.
Project, project, interview! Anne Waldman, Michael Allan, and Ron Padgett have all been interviewed thus far by members of The Poetry Project staff. More to come. Check it out.