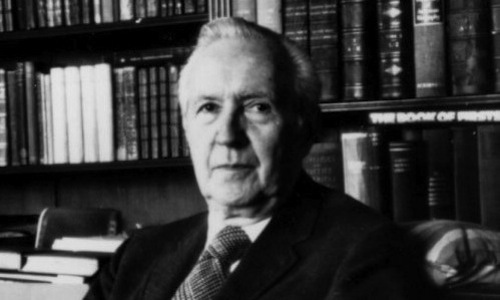 From The NY Times:
Jacques Barzun, the distinguished historian, essayist, cultural gadfly and educator who helped establish the modern discipline of cultural history and came to see the West as sliding toward decadence, died Thursday night in San Antonio, where he lived. He was 104.

His death was announced by Arthur Krystal, Mr. Barzun's friend and editor.

Mr. Barzun was a man of boundless curiosity, monumental productivity and manifold interests, encompassing both Berlioz and baseball. It was a life of the mind first cultivated more than a century ago in a childhood home outside Paris that became an avant-garde salon.

Mr. Barzun stood beside Sidney Hook, Daniel Bell and Lionel Trilling as among the mid-20th century's most wide-ranging scholars, all of whom tried to reconcile the achievements of European culture and philosophy with the demands and tastes of American intellectual and cultural life.

He wrote dozens of books across many decades, demonstrating that old age did not necessarily mean intellectual decline. He published his most ambitious and encyclopedic book at the age of 92 (and credited his productivity in part to chronic insomnia). That work, "From Dawn to Decadence," is an 877-page survey of 500 years of Western culture in which he argued that Western civilization itself had entered a period of decline.

Mr. Barzun was both of the academy and the public square, a man of letters and — he was proud to say — of the people. In books and in the classroom he championed Romantic literature, 19th-century music and the Western literary canon. He helped design the influential "great books" curriculum at Columbia, where he was one of its most admired figures for half a century, serving as provost, dean of faculty and university professor.

As an educator Mr. Barzun was an important critic of American universities, arguing in 1968 that their curriculums had become an undisciplined "bazaar" of miscellaneous studies.

But he was also a popularizer, believing that the achievements of the arts and scholarship should not be divorced from the wider American culture. Writing for a general audience, he said, was "a responsibility of scholars."

To that end he served as history consultant to Life magazine and as a critic for Harper's. His articles appeared in Life magazine and The Saturday Evening Post as well as The Atlantic, The Nation and The New Republic. In 1951, he joined Trilling and W. H. Auden in founding the Readers' Subscription Book Club, which sought to make serious scholarship and literature widely available.
Full obit here.