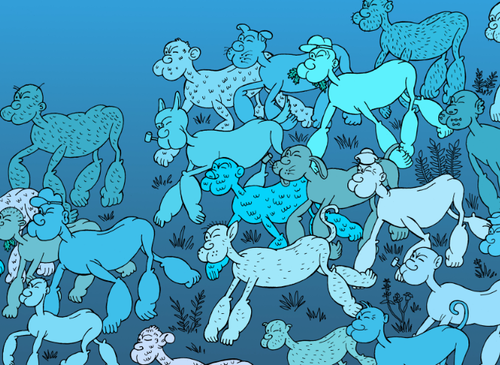 Well, this is awesome. Patricia Lockwood, author of the brand spanking new Balloon Pop Outlaw Black, from Octopus Books, has dreamed up quite the sales pitch. See, there are a number of Pupeyes (dog/Popeye hybrids, like ligers, but way, way cooler) on the cover of said book, part of an illustration by Lisa Hanawalt. Well, if the book sells out its first print run by January 31st, Lockwood is going to get a Pupeye tramp stamp.
Lockwood, on her blog:
The cover art was drawn by Lisa Hanawalt who is a huge genius. I specifically hunted her down like an animal because I love her art so bad and I said "Lisa, will you draw a book cover for me," and she said "Sure, as long as you're fine with it depicting a bestial herd of naked romping puppeyes on all fours"

AND THEN SHE DID IT

AND I SAW IT AND I GASPED

AND THIS CONVERSATION HAPPENED

(OR SOME APPROXIMATION THEREOF)

Me, whispering: The little four-legged puppeyes are so beautiful

Lisa: Look at the chins that are also butts

Me: Look at the BUTTS that are also butts

Lisa: The bare butts

Me: Look at the butt of the main puppeye -- I want that butt on my body as a second butt

Lisa: Get a tattoo of it

Me: GET A TRAMP-STAMP OF IT

Lisa: GET A TRAMP-STAMP OF IT IF YOU SELL ALL THE BOOKS

Me: But I have never had a tattoo and my mom would say my body was ruined

Lisa: Your body WOULD be ruined, with a second butt

Me: It's so tempting

Lisa: Do a Challenge do a Tattoo Challenge

Me: DO A TRAMP-STAMP CHALLENGE

SO THERE IT IS: If I sell all the books before January 31st I will get a simply enormous tramp-stamp of a four-legged puppeye with a bare butt tattooed on me. Oh my god why would I even do this

It would look a little something like that except it would be on my body and my mom would be crying and I would be crying

DO YOU WANT TO DO THIS BAD THING
Let's make this happen, folks. And let's not forget, in the midst of this stamping, that Lockwood's poems kick ass. Head on over to Octopus!