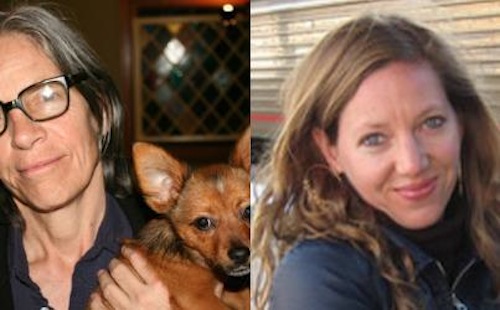 Seattle's The Stranger interviews Maggie Nelson and Eileen Myles! The two were there to talk as part of the Seattle Art Museum's new show, Elles, which has traveled from the Centre Pompidou in Paris and comes with the tagline, "Women take over" and captions like "View the wall of women" (here). In response to some of the wall text: "'That's really, really, really, really bad,' Myles said, hands thrust in pockets, staring incredulously, not GETTING HER WOMAN ON!" More about the show:
Elles: Women Artists from the Centre Pompidou, Paris is a landmark exhibition of more than 130 works of art made by 75 women artists from 1907 to 2007. Organized by the Centre Pompidou in Paris, home to the Musée National d'Art Moderne—the largest collection of modern and contemporary art in Europe...

Artists include Sonia Delaunay, Frida Kahlo, Dora Maar, Diane Arbus, Marina Abramovic, Louise Bourgeois, Atsuko Tanaka, Cindy Sherman, Sophie Calle, Hannah Wilke, Nan Goldin and Tania Bruguera, among others. An exhilarating exhibition that has already become a milestone in the history of exhibitions, Elles: Women Artists from the Centre Pompidou, Paris will excite the casual viewer as much as the hardboiled expert.
And more from Myles's walk-through:
The two—both of whom have written extensively about art—were supposed to talk about their responses to Elles at Benaroya. Nelson flew in too late to see Elles before the talk.

But Myles was all over Elles yesterday morning. On the third floor, where SAM has turned its modern and contemporary galleries over entirely to women artists, Myles loved seeing the large, bright abstractions by Joan Mitchell and Helen Frankenthaler (and to read wall text that talked about female abstract expressionists as forging American, as opposed to European, identities as artists at least as much as identities as women versus men in art).

"I saw three boys walking by the Joan Mitchells and doing the same joke everyone does: 'I did that in sixth grade,' they were saying," Myles said. "It was kind of great because they were doing the same thing everyone does to the men. But I felt it more, because they were boys laughing at Joan."

Myles said she saw "lost opportunities" for connections with contemporary female artists ("Shannon Ebner should be next to Agnes Martin," she said). And she wanted to know whether SAM intends to buy any of these pieces, to increase the sorry quotient of female artists in its own permanent collection. I would like to know the same thing.

Upstairs in the Pompidou's version of Elles, Myles dug individual works but could detect no governing logic except for a troubling emphasis on women artists depicting women's bodies—which is a mere subset of what an artist like, say, South African painter Marlene Dumas creates. This focus on images of women's bodies reminded Myles of one of her experiences in publishing over the years: Publishers always want an image of a woman on the cover of her books, which she finds bullshit.
Fragments from their evening conversation:
Myles: "I missed the whole brouhaha about conceptualism because I was sleepless and corny."

Myles: "We shuddered till you went."

Myles: "If I had the time to make a film? 'It Gets Worse.' That's what I'd call it."

Myles: "I used to think Mark Wahlberg was family."

Myles: "Everyone's phony and made-up. Everyone's a monster like me. Now I know everyone."

Nelson: "Loneliness is solitude with a problem."

Myles: "I don't see how people don't write about sex. And also, when are you not writing about sex?"

Nelson: "A poem never feels alive unless it's constructed through all these dirty connections. ...I feel in some ways I haven't started writing about sex."

Nelson: "With Wave Books, it was the first time I've felt like nothing about me or the book had to be in drag."

Nelson: "Rather than 'This is shocking,' a more interesting response to a work of art would be, 'I haven't seen this before.' You should see Carolee Schneemann's Infinity Kisses."

Myles on the election: "We won. We meaning everyone who cares about women being central citizens in our country."

Myles: "I think more Buddhist than I sip Buddhist."