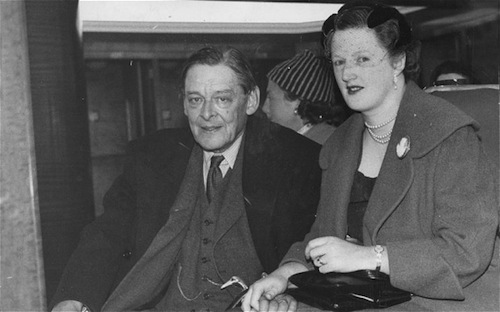 We've been covering Valerie Eliot's death here and here. Now, the The Guardian wonders what treasures will soon surface from Eliot's desk:
The true creative impact of the mental decline of TS Eliot's first wife, Vivienne, and the real nature of his abortive relationships with the women he saw following her committal to an asylum, along with other remaining mysteries of the renowned writer's life, are finally likely to be held up to inspection by an official biographer.

Following the death of Eliot's devoted second wife last week, her friends and former colleagues say access to all the poet's personal papers may now be granted. If so, the great poet's alleged antisemitism is also likely to come under fresh scrutiny. Love poems presented to his second wife every Sunday of their married life can also be published, according to her wishes.

Valerie Eliot, whose funeral takes place on Wednesday, was the assiduous editor of her late husband's letters and guarded his reputation with care during the 47 years following his death. Valerie, the poet's former personal secretary, guided his literary estate and did much to financially shore up the independence and future of the poet's publisher, Faber and Faber. But even though Eliot's widow was keen to systematically publish his wide-ranging letters, she prevented any writer from examining his documents with a free hand.

Any biographer now selected by the joint trustees of the Eliot estate would have plenty of drama to draw upon. As Eliot himself once commented: "It often seems to me very bizarre that a person of my [Unitarian] antecedents should have had a life like a bad Russian novel."
Full article here.