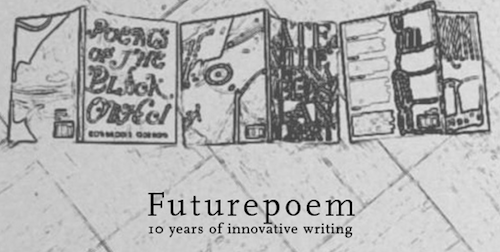 John Ashbery is getting his read on in a major way, now that submissions have closed for the Walt Whitman Award. For those of you who couldn't meet the deadline or just ran out of stamps, fear not! Futurepoem is asking for your manuscript. Details as follows:
Dear Futurepoem Friend,

Our 2012 Open Reading is finally here and we are so excited! Starting today, we will begin accepting on-line submissions for our annual reading period. We will accept manuscripts from November 15- December 31, 2012.

We welcome unpublished book-length manuscripts of innovative prose, poetry and multi-genre work during this reading period. . Our editors for this season are Christian Hawkey and Juliana Spahr-- a third guest editor will be announced shortly! Specific notes and guidelines, and more information on our editors is below!

To submit your manuscript visit our online submissions manager, Submishmash between Nov. 15-Dec. 31, 2012.
Make the jump for the submission guidelines and guest editor bios. And thank you for choosing Futurepoem.