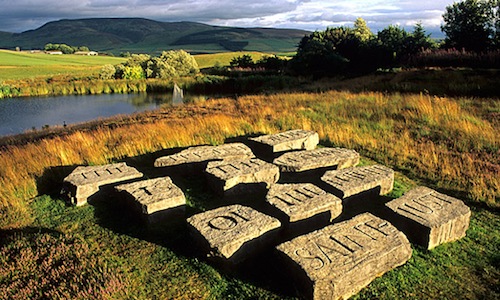 From The Guardian:
"When I hear the words Arts Council", Ian Hamilton Finlay once wrote, "I reach for my water pistol." The body in the line of fire was the Scottish Arts Council. The choice of weapons was not just a joke: in retreat from a world in which the art object is apt to be overshadowed by its publicity, Finlay created his sculptural garden at Stonypath, Lanarkshire, in the Pentland Hills some 30 miles south-west of Edinburgh. Already a practitioner of concrete poetry, Finlay began "planting" poems, if not in concrete, then in marble, granite, slate, across streams, on gardening tools, even in the trees: "WOOD / WIND / SONG, WIND / WOOD, WOOD- / WIND / SONG". Firing his pistol at the arts-governing bodies he regarded as being in opposition to his purity of purpose, he could water his garden at the same time.

A sufferer from chronic agoraphobia for much of his adult life, Finlay, who died in 2006 at the age of 80, hardly left the confines of Stonypath for over 30 years. Therefore his exile had to be made unconfined. If the battles were to be won – and there were to be many of them – the "retreat" must become "an attack". It was an important principle of Finlay's thinking that his garden, one of the wonders of 20th-century art, was not the idyllic creation that some well-intentioned admirers mistook it for. Rather it was, like all gardens, in a permanent state of revolution. Whereas the grove may be cultivated, nature, its governing force, is wild. "Life is full of problems," Finlay wrote to the Austrian poet Ernst Jandl in 1967. "Not least the moles, which can RUIN a good garden-poem overnight." Violent action is required, with hoe, spade, axe – or water pistol – to preserve a state of order.

The new display at Tate Britain, curated by Andrew Wilson, plays with some of these characteristic tendencies. The exhibits are assembled in the Duveen Galleries, which also serve as a junction for visitors passing from one part of the building to another, and which seem an austere space for an artist much of whose work was conceived to flourish in the open air. But the show, which is confined to materials from the Tate's own holdings, offers a guide to Finlay's themes.

It is important to understand, as not everybody does, that Finlay designed but did not make his sculptures. They were created according to his precise specifications by "collaborators". Moreover, in addition to Stonypath, he designed gardens on commission, such as Fleur de l'air in Provence, but being agoraphobic he was seldom able to see his works in situ. The practical duty of installation was done by his wife Sue, and later by Pia Simig, while the craftsmanship was entrusted to an ever-changing team of collaborators, some of whom Finlay never met. He was, however, always scrupulous about crediting them. The work of John Andrew, Ron Costley and Nicholas Sloan, among others, is on view at the Tate. A neon script at the Duveen's northern end, "Je vous salue marat", a homage in red, white and blue to the French revolutionary, was made by Julie Farthing.
Full article here.