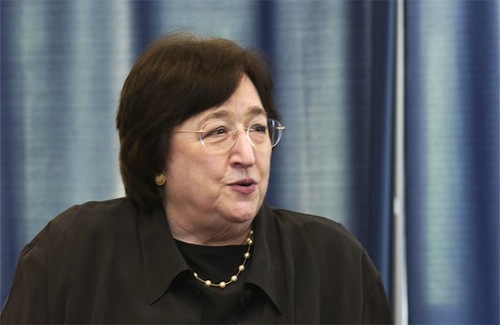 Here's an interview with Helen Vendler from The Boston Globe, wherein she talks about the easy-breezy poetry of John Ashbery, her admiration of D.A Powell, and her favorite novels. JK—Vendler doesn't read novels. Seriously.
BOOKS: What are you reading currently?

VENDLER: I was sorting out books and I picked up John Ashbery's "As We Know.'' I have found him difficult in the past. You forget that after you've gone through something with difficulty when you go back it seems easy. I was just reading poem after poem without that undertow of difficulty.

BOOKS: How do you read a book of poems, from beginning to end?

VENDLER: People put their strongest work at both ends so I usually start with the opening and the closing.

BOOKS: Any other poets you are reading?

VENDLER: D.A. Powell, whose work I love. I'm reading his "Chronic." I also got an anthology edited by the poet Mark Ford called "London: A History in Verse."

BOOKS: Any poet you would like to spend more time with?

VENDLER: I would like to spend more time with Spanish poetry. I know French better than Spanish, but Spanish was my first language, and my father spoke it to us. I'd like to go back and just read the ones I'm capable of reading, such as the rhymed plays by the poet Luis de Góngora, a contemporary of Shakespeare.

BOOKS: Do you read novels?

VENDLER: No.

BOOKS: Have you ever?

VENDLER: No. I've always felt somewhat ashamed about that. I do read them a little, but I don't turn to them with that real hunger novel readers have. If you like the precision and concision of poetry a page of prose is unsatisfying in a certain way. And poetry is so direct. The first line of a poem is as if I heard a voice speaking to me in the same room. There isn't that sense I wrongly have about novels that someone is telling me a story about people I don't know. When I was young I had to teach novels, which was excruciating. I always did them wrong and badly.