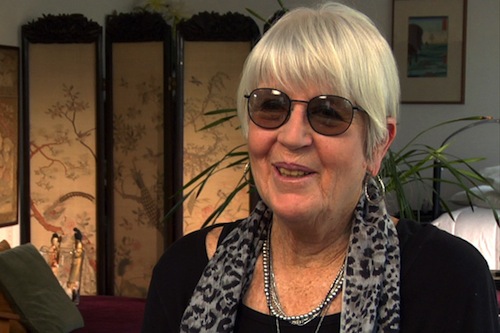 We love the features Jacket2 has been surfacing from the Ur-Jacket. And this one on Joanne Kyger in particular. Poet Linda Russo put this portfolio together, which includes writing by the likes of Kevin Killian, Dale Smith, Anne Waldman, and Kyger herself (to name a only a few contributors). To get you started, here's a taste from Russo's introduction:
The form "of being there" that readers of the now-called "Beat Generation" encounter differs vastly from what it was to be there. And "being there" - as a body in those spaces and amongst those signature productions textual, social and psychological - once one is there, is easy; but being able to say "what [one] wanted to say," and being heard, is another thing altogether. Joanne Kyger, unlike many women of her generation who wrote, had the rare - gift? opportunity? wherewithall? - to have been "taken up" by male writers who 'made' the places where poetry was made; literally, Joe Dunn and John Wieners, she will tell you, both young poets themselves, took her to the Sunday Meetings where Robert Duncan and Jack Spicer reigned. At a time when there were few poetry magazines (two in fact) and only one small press edited by a woman, being invited into this close-knit circle put her "under" the critical eye of those who brought poetry into print - and in this particular fact lies her difference. Because she has a large body of work published (over 20 titles) since 1965, we might see her as a prolific and substantial poet of her generation. And because her way of being was broad and sweeping, extending across several continents, into geographies and local histories, and through friendships with many poets and their differently inflected aesthetics, there is no one way to talk about her work except as that of a singular individual.
Make the jump to check all the goodness therein!