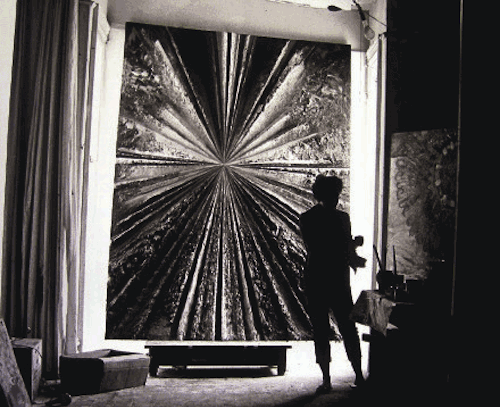 Wow, folks in SF are pretty lucky. Tonight, not only can you check out Kevin Killian's Wet Paint, but the Jay DeFeo retrospective is also happening. And it's all under the roof of the SF MoMA! A little bit about the play:
THEY INVENTED A NEW KIND OF ART...AND A NEW KIND OF SEX TO GO WITH IT! Killian's Wet Paint tells the story of Jay DeFeo and San Francisco's bohemian underground with a cast of artists, poets, filmmakers, musicians, critics, and other DeFeo fans. Despite its absurd touches, Wet Paint is an ultimately touching salute to a great painter from succeeding generations of Bay Area artists.
And about the retrospective:
NOVEMBER 03, 2012 - FEBRUARY 03, 2013
This retrospective offers a revelatory, in-depth encounter with the work of Jay DeFeo (1929-1989), one of the most important and innovative artists of her generation, but one who until now has not been given her due. A quintessential San Francisco artist who rose to national prominence, DeFeo was at the center of a vibrant community of Bay Area artists, poets, and musicians in the 1950s. Although she is best known for her massive, visionary masterpiece The Rose (1958-66), DeFeo created an astoundingly diverse range of works; her unconventional approach to materials and her intensive, physical process make her a unique figure in postwar American art. Presenting close to 130 works, including collages, drawings, paintings, photographs, small sculptures, and jewelry, this definitive exhibition traces DeFeo's distinctive vision across more than four decades of art making.